Whether you're hosting a family holiday dinner, a neighborhood cocktail party or a football watch party, a well-prepared cheese and charcuterie board is sure to impress your guests. With a little advance planning and a shopping trip to some of your favorite local markets and farm stands, you'll have a gorgeous board that will leave everyone thinking you've put in hours of preparation when you actually have not.
My preference is simple and rustic over flashy and expensive when it comes to the boards I prepare. Obviously, there's cheese and meat. Whatever you choose to add beyond that is up to you. This is meant to be a simple guideline just to get you started.
I love cheese/charcuterie boards because they are surety please just about anyone's taste. Guests can create all sorts of combinations to keep their experience unique and entertaining. Keeping your board seasonal is an important consideration as well.  While the main event attraction of a charcuterie board should be the meat, include fresh in-season fruit to add sweetness to the salty. In winter, I'll add Medjool dates either plain, stuffed with almonds and Gorgonzola or wrapped in Petit Jean Meats bacon.
A little tip before we go any further — if you head over to Pinterest and search for cheese boards, you may just get so overwhelmed, you'll abandon the whole idea and head straight to the spinach dip. Yes, there are some gorgeous ideas out there but unless you want to spend hundreds of dollars and many hours of prep and food styling, I strongly encourage you to stay simple. Your board will be just as impressive.
First, choose your board.
I've used everything from glass to plastic, wood to slate, marble to granite. The size of your guest list and the style of your party will basically determine the type of board you choose to use. One of the cutest I've ever seen was actually created using rings cut from a log. Just about anything goes really as long as it's food safe.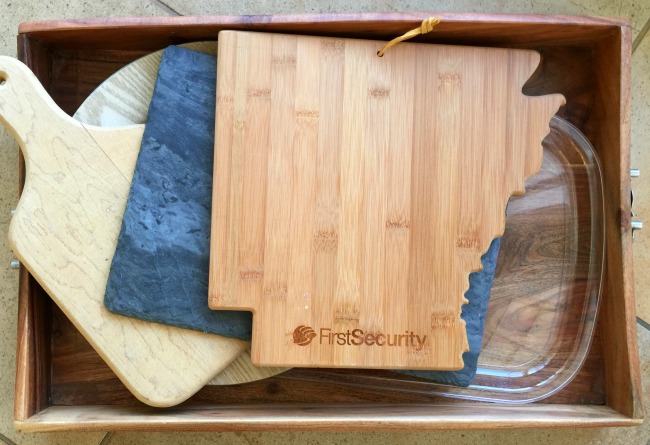 My favorite board is actually a wooden rimmed tray. Since I prefer to stage the tray ahead of time and refrigerate it before the party, the rimmed tray is easier for me to move from the frig to serving table.
After that, I love using my marble pastry board because of the gray and white color which pairs well with sparkling glass and shiny silver.
Stacking a couple of boards together also works.
Second, decide on the cheeses.
If you're serving the cheese as an hors-d'oeuvre, plan on 1 to 2 ounces of each cheese per person. For a party of 4 to 6, one to two really nice cheeses are probably all you need. For more than that, I like to go with at least 3 to 5.
Choose one cheese made with each type of milk — cow, goat, and sheep's milk. I also prefer to choose cheeses with different textures — soft like a Brie and hard like a parmesan or farmhouse cheddar.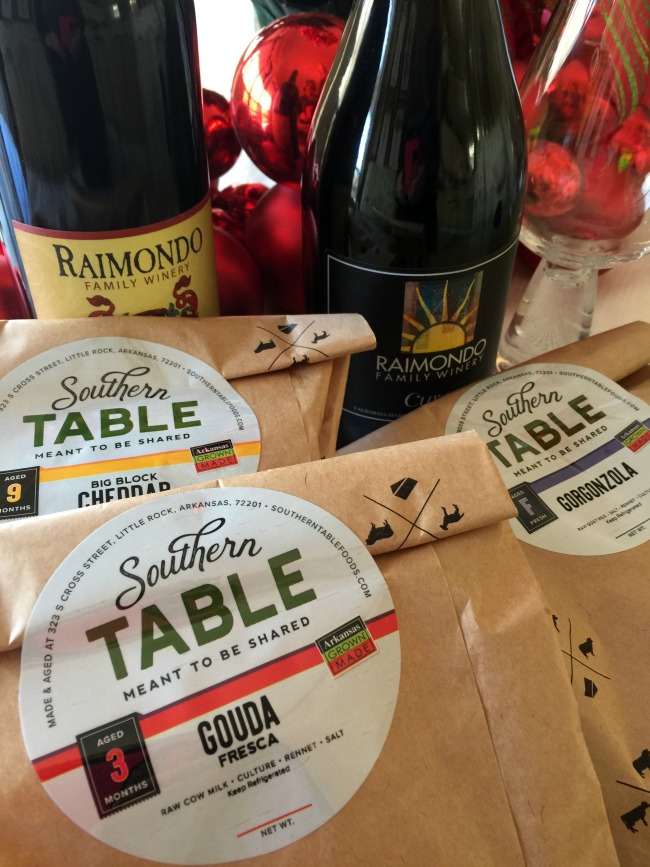 It's good to remember this little phrase, "The flavors pair well if in the same country they dwell." It is best to pair things from the same area/region when building your meat and cheese board. I rely on local artisan cheese makers Margie Raymond and Al Hodge of Southern Table Foods in Little Rock to help me with my choices. While there, I can also get their recommendations on wines to pair with the cheeses. Next time I drop by, I'll plan on staying for lunch or dinner at their quaint and inviting farm-to-table restaurant and let Margie do the cooking for me.
For fully developed flavor, allow the cheeses to come to room temperature before serving.
Third, it's time for the meats.
Select a variety of meats: mild, medium and bold flavors. Have options for both bold and mild flavors. I turn to my local Kroger, Whole Foods or even Walmart delis for spicy soppressata, hot capicola, hot calabrese or smooth and creamy prosciutto.  I may also include Petit Jean Meats summer or Christmas sausage, shaved hickory smoked ham, and shaved salami. (Note: Petit Jean Meats now has cheeses!) Smoked turkey is another good option. Plan on 3 to 4 slices of meat per person.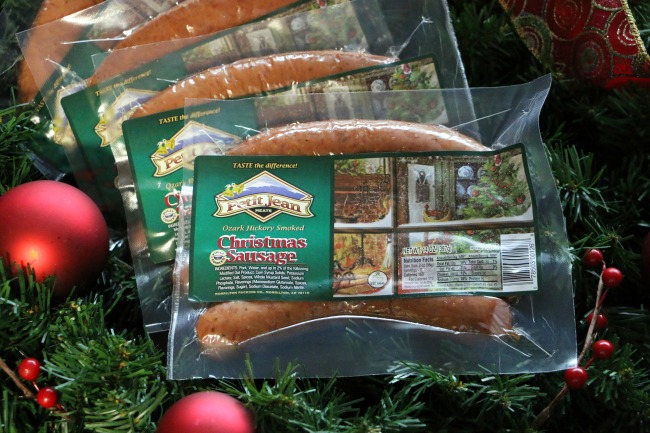 Courtesy of Petit Jean Meats.
Fourth, add crackers and breads.
Again, variety is important. I prefer a crusty baguette sliced for crostini from Boulevard Bread Company, Dempsey's Bakery Cracker Bread,  J & M's Original Cheese Straws, some grissini breadsticks and parmesan crisps from Whole Foods or Fresh Market.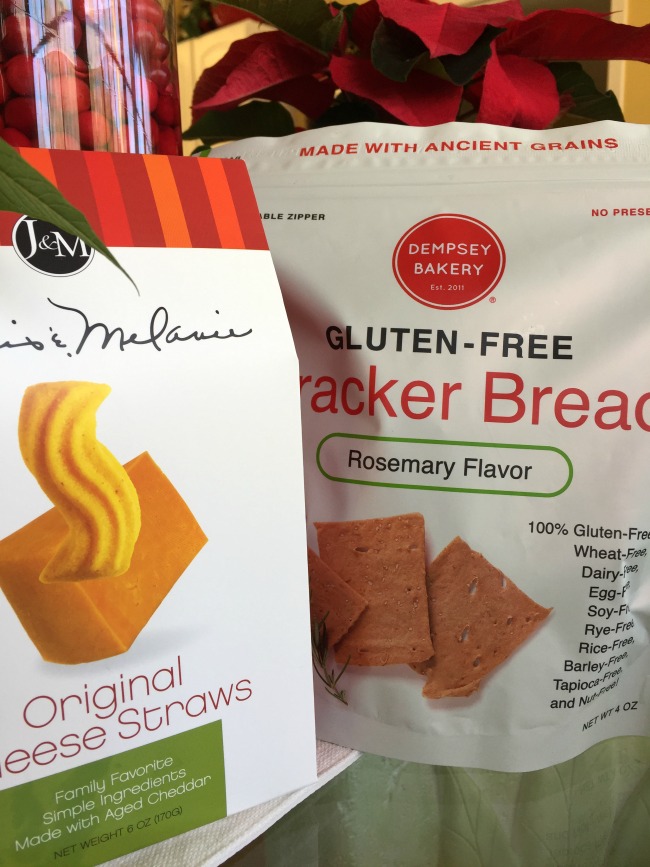 Don't be tempted to go the homemade route here. Remember, we're going for less stress.
Fifth, pile on the fruits and nuts.
I'm not a less is more kind of person when it comes to charcuterie boards. Pile on the fresh and/or dried fruits and a variety of nuts. Marcona or smoked almonds, glazed walnuts or roasted pecans not only fill in the spaces, they are delicious as well. I often use a Wicked Mix Moonlight Mix medley either in addition or as a replacement for the nuts. Try placing those in cocktail glasses to add height and interest to your board.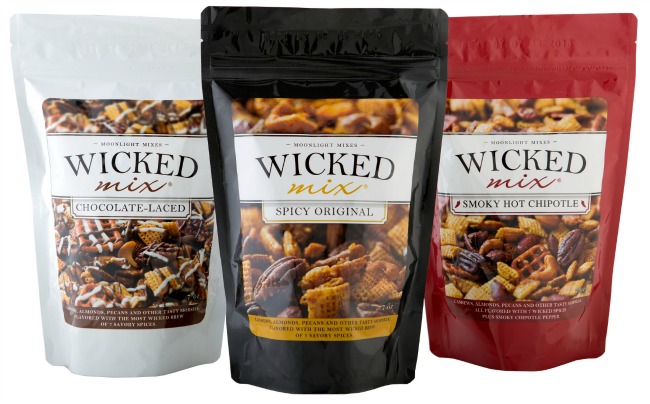 Courtesy of Wicked Mix
If I have some of Bentonville's The Hive Executive Chef Matt McClure's Arkansas Trail Mix already made, I'll stick in a bowl of that. Dry roasted edamame with sea salt always seems to be popular.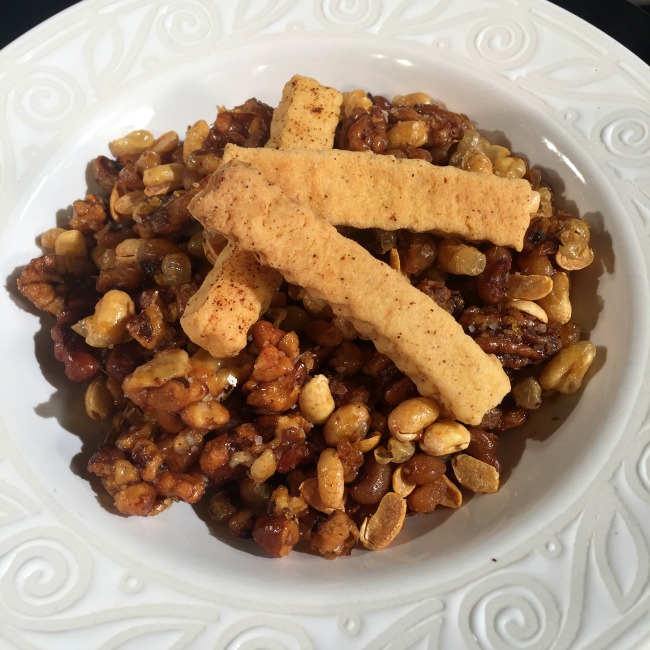 As far as fruits are concerned, use a variety of seasonally fresh and dried fruits. These bring a sweetness in contrast to the spiciness of the meats and nuts. Dried orange or lemon slices, Turkish figs, dried apricots and pineapple and Medjool dates are some of my favorites. Sparkling Sugared Cranberries are beautiful on a holiday board. I don't typically use fresh apples or pears since the slices tend to brown quickly preferring instead to use fresh, colorful berries and grapes. I may include a block of quince paste as well. During the holidays, I'll cut a pomegranate in half to use for a decorative touch.
Sixth, something briny, sweet and spreadable
Pickled vegetables, such as gherkins or cornichons, olives, pickled jalapeños or pepperoncini are great on charcuterie boards.  Rogers' House of Webster bread and butter pickles are another good choice. Again, hit the olive bar at your local market. You won't need full jars, so unless you routinely eat them, go for less.
I'll add a small bowl of My Brother's Salsa small batch Cranberry-Orange salsa for a holiday touch. With several varieties of salsa available, you're sure to find one you'll enjoy having on your board.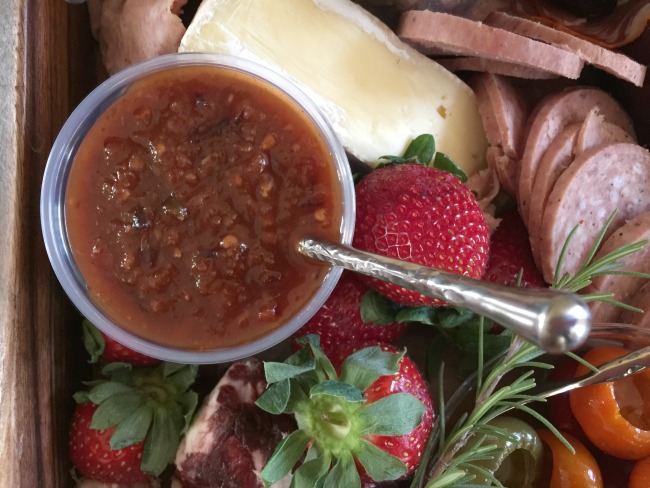 Other options might include Fischer's Pure Honey either in a small bowl or spread over a wheel of brie or chevre, a spicy or honey mustard, and a jam, either homemade or purchased. Typically, I'll use one of my homemade jams such as this Habanero-Peach Jam with Ginger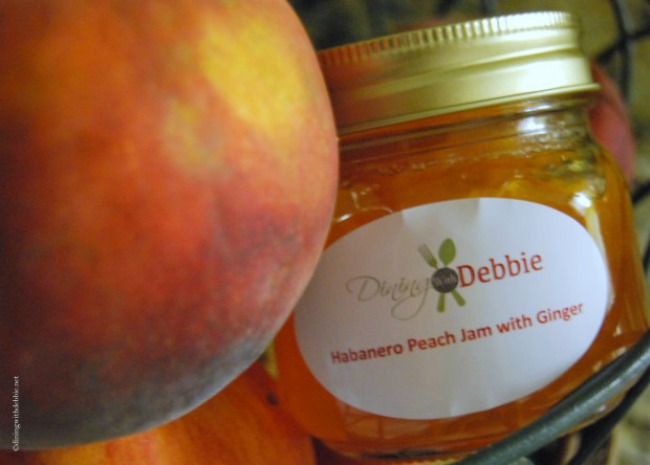 or one from Petit Jean's Sacred Heart collection.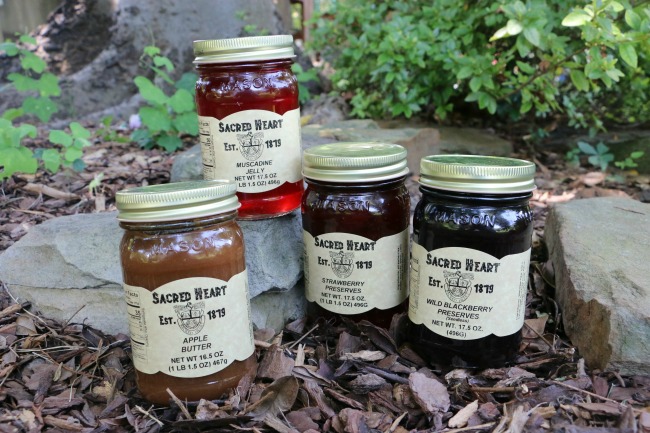 There must be chocolate! Nothing brings together all the flavors of your cheese and charcuterie board than chocolate. And for the best, I'm going to turn to my local favorite chocolatier, Carmen Portillo of Cocoa Belle in Bryant. Just ask Carmen to put together a personalized collection of her truffles. While it will be hard to resist eating them all yourself, plan on sharing with your guests.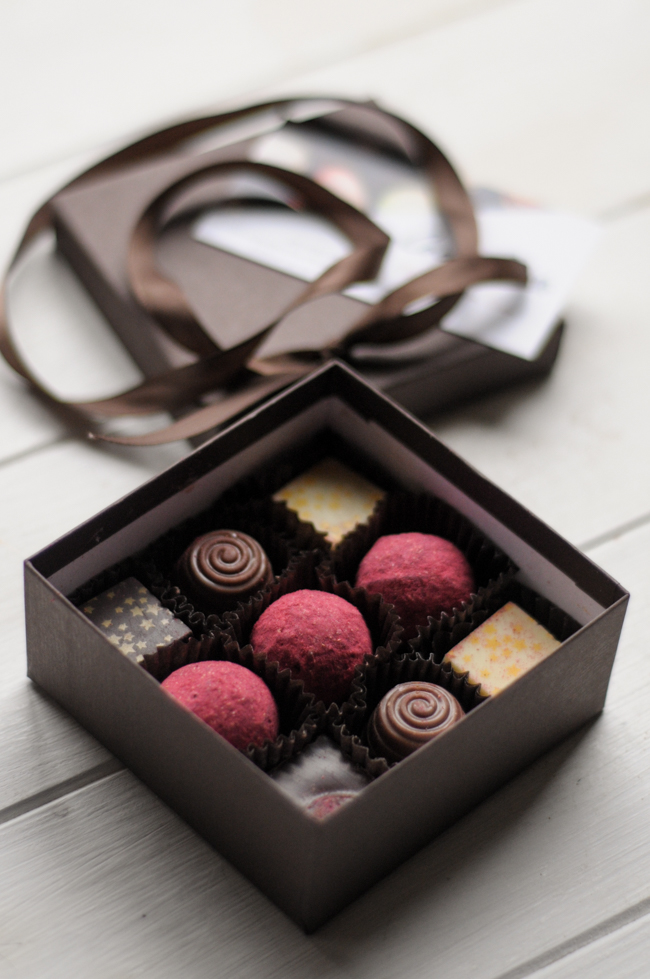 In Northwest Arkansas, you might run by Kiya Chocolate, a bean-to-bar chocolatier in Springdale. You should also be able to find their products available in some markets in Central Arkansas.
Last, putting it all together.
Start by placing your cheeses on the board, keeping them wrapped if you are preparing several hours ahead of serving.
Next, pile on the meats alongside the cheeses. Fill small bowls and ramekins with honey, olives, nuts, pickles and spreadables. Spread them throughout the board.
Grapes and fruits come next. Leave the grapes on the stem for a more dramatic effect. Be sure to have a variety of colors. Layer in the dried fruits next, if using.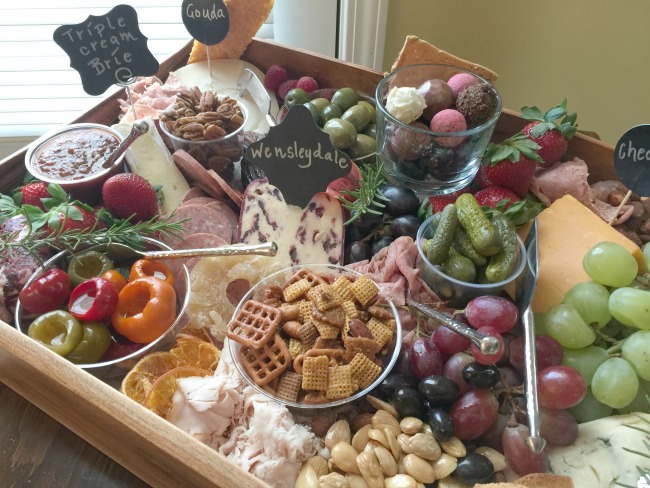 Garnish the board with stems of rosemary. Not only does it add color, but also the smell is incredible.
And there you have it. A beautifully created, semi-homemade charcuterie board using locally-sourced ingredients. When your guests are raving about all the trouble you have gone to create the board, you really don't have to tell them how easy it was.
It'll be our little secret.