When I was growing up my parents listened to "traditional" country music. Riding in the back seat of the car as kids we would listen to my dad's favorite tunes by Marty Robbins.
Today, Classic Country is still one of my favorites. I was tickled when I stumbled across a video of Marty Robbins singing the song "Blue Spanish Eyes." Marty didn't know the words to this song that people often requested. Having not written or recorded the song, he only knew the "tune" he tells his audience. Marty turned to his banjo player for the words to the song as he was singing. This banjo player happened to be our friend and Arkansas native, Jeff Chandler.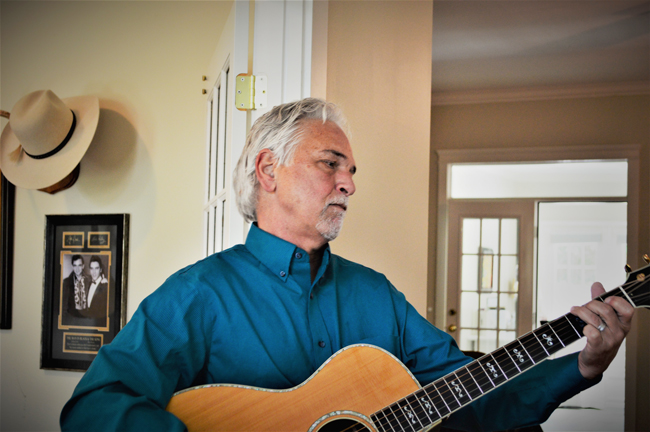 When Jeff Chandler graduated from Harding University in 1976, he wanted to pursue a career singing Country and Western Music. He was and still is particularly fond of Chuck Wagon Music. Jeff headed out to Estes Park, Colorado to pursue his dream and became a member of the Chuck Wagon Dinner Theater. Known for his great baritone voice, acoustical guitar and banjo playing, he had the perfect talent for Country and Western Music.
Jeff had admired the sounds of Marty Robbins and his band. Marty Robbins was known for his cowboy songs. The song "El Paso" established Marty Robbins as a master of Country Music and hit No. 1 on both Pop and Country Charts, leading to his first Grammy. Today, "El Paso" is still one of the Top 100 Western songs of all time.
Jeff thought that his group's style of music was a perfect mix to open up for Marty Robbins. He decided to write a letter to Marty Robbins. After a week passed, he dialed the operator to connect him to Marty Robbins Enterprises.
"You know, back then it was easy to find who you needed in the old phone books."     
A Marty Robbins Band member answered the call and asked Jeff if he had a record he could send. Jeff with his band "The Flying J's" sent the record that they had cut.
A persistent Jeff phoned again. This time on the other end of the line was Marty's longtime backup vocalist and sessions player, Bobby Sykes. 
"Did you receive my letter?" Jeff asked. 
They had received the letter but explained they didn't have any control over who opened for the band. The promotion company was responsible for booking the opening acts. 
"Who is that baritone singer I hear on the record?" asked Sykes. 
"That's me" Jeff replied. 
Bobby Sykes went on to tell Jeff that he wanted to retire, having been with the band for over 25 years, and he was looking for his replacement. Sykes asked Jeff to come out to Nashville and audition.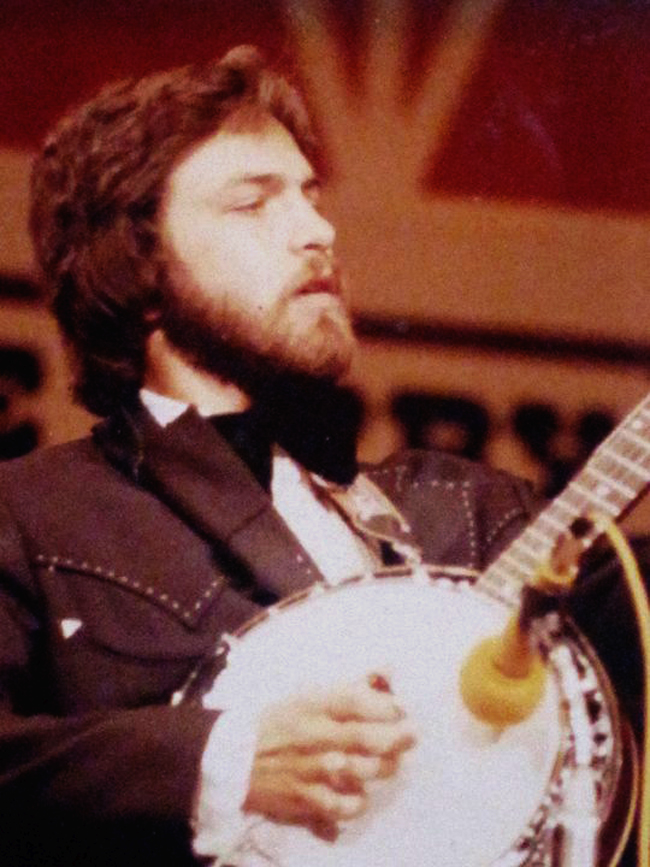 Photo courtesy of Jeff Chandler
It was 1978, and after only singing two lines with Marty Robbins he was hired. A young Jeff Chandler, along with his bride, packed up and headed to Nashville to live out his dream. Jeff played rhythm guitar, banjo and sang harmony for Marty for more than three years. They played many songs in the Ryman Auditorium, toured the world and cut three albums while Jeff played with the band. President Ronald Reagan was a big fan of Marty Robbins and asked Marty to play for him and First Lady Nancy Reagan on the White House Lawn. 
A humble Jeff says to me "that was the second time I got to play for a President."
While Jeff was in Colorado singing Chuck Wagon Music as the Flying J's, his father, Winston Chandler Sr. was active in the Democratic Party, which ultimately led Jeff and the Flying J's entertaining President Jimmy Carter and First Lady Rosalyn Carter on the White House lawn.
In early 1982, Jeff Chandler returned from a concert tour in England to find that his daughter Rebecca wouldn't come to him. Jeff had been on the road so much that little Rebecca, less than two years old at the time, didn't recognize him. Jeff, with his late wife Nancy, and little Rebecca packed their things and headed back home to Little Rock to focus on their family. Marty Robbins died shortly after of a heart attack on December 8, 1982. He was 57 years old. Marty was inducted to The Country Music Hall of fame two months before his death.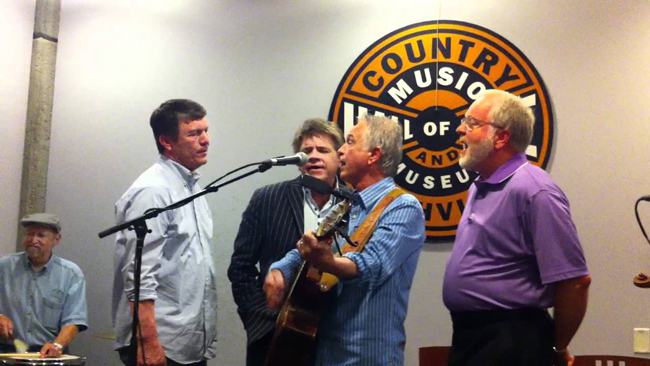 Photo courtesy of Jeff Chandler
In March 2011, Jeff, along with his best friends since college, sang at a Tribute for Marty Robbins at the Country Music Hall of Fame. 
"We were the only ones to get a standing ovation" Jeff grins.
Jeff continued to use his musical gifts and vocals leading praise worship and occasionally doing Chuck Wagon music at various venues. Jeff has been a great mentor throughout the years to my son as he played in the worship band.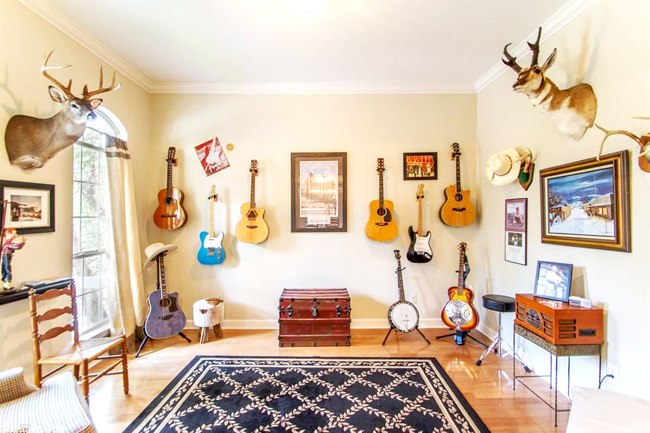 Today, Jeff and his wife Carole occasionally host what we southerners call pickin' and singin' gatherings in their beautiful home. Jeff's guitars and other instruments hang in a music room in their home along with a photo of Marty Robbins.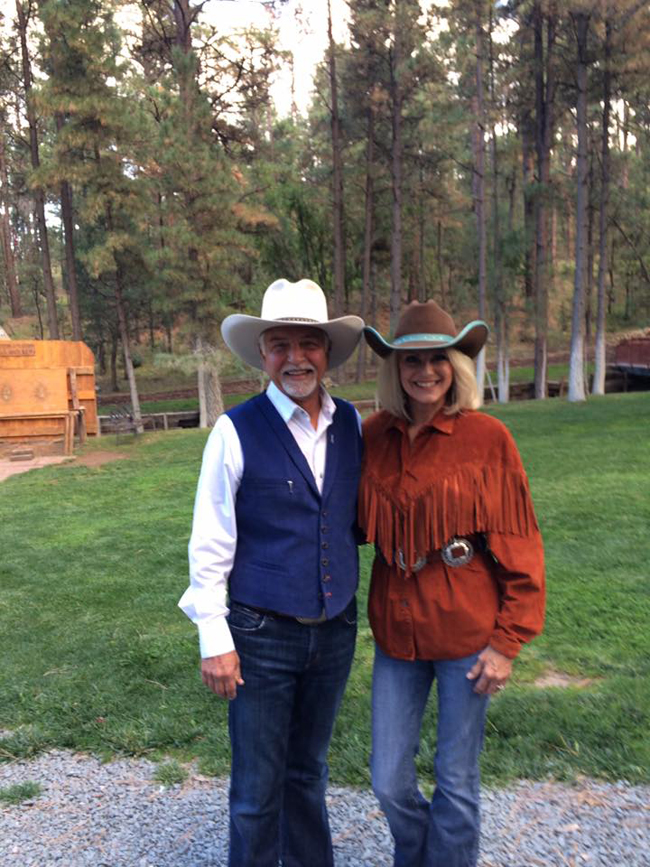 Photo courtesy of Carole Chandler
Carole gleams as she speaks of experiencing Chuck Wagon Music still alive today during a recent trip to Flying J Ranch in New Mexico, "Everyone dresses western, dances, sings and has a great time."
Carole and Jeff are both Realtors at ReMax Elite known as The Chandler Group. The word "Open House" takes own a new prestige with this pair. Carole, with an eye for design, together with Jeff and his acoustic guitar, offer clients a unique showing.