If you haven't yet visited Johnny Cash's Boyhood Home, now would be the ideal time to plan your trip to northeast Arkansas. The inaugural Johnny Cash Heritage Festival is scheduled for the weekend of October 19-21 in Dyess, Arkansas. This three-day festival, with concert headliners Rosanne Cash and Kris Kristofferson, is a revamped version of the former concert series previously held at Arkansas State University. This year's celebration comes home to where everything began. Cash lived in Dyess from age three until he graduated from high school and left Arkansas to join the Air Force in 1950.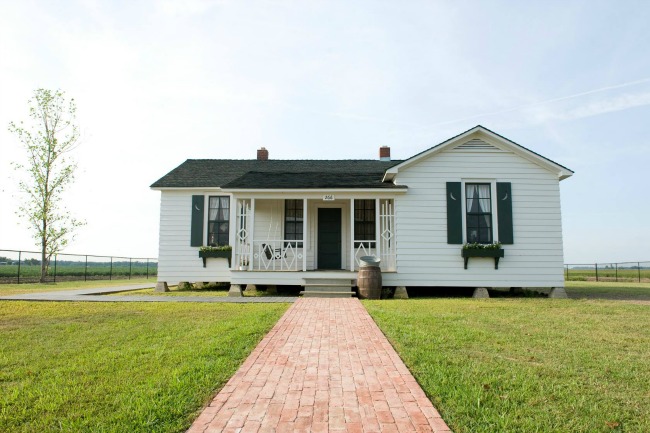 Photo courtesy of Arkansas State University
Let this sink in.
A world-class concert event in Dyess, Arkansas? Yes! Where better to honor the Man in Black? The Cash family considers the Heritage Festival a homecoming. And we are all invited. You won't believe the smorgasbord of activities planned. Music straight from Nashville, presentations and panel discussion on a variety of topics, regional art and craft demonstrations, tours of historic buildings, and your favorite food. Tickets are required for Saturday afternoon's headliner concert, but all other music and events are FREE. Come for a few hours or stay all three days and enjoy the bounty offered by the Arkansas Delta in the fall.

Speakers
Beginning at noon Thursday and continuing throughout the day Friday and Saturday morning, a symposium of speakers and panels will present topics related to Johnny Cash, music that grew from the eastern Arkansas Delta, and cultural programs associated with Roosevelt's New Deal Program. While the speaker symposium is free, registration is requested to properly accommodate headcount.
The slate of speakers scheduled for Thursday and Friday include Dr. Robert Cochran and Dr. Suzanne McCray who will present a cinematic ode to the Mississippi River and Flood of 1937, Cash's personal biographer, Mark Stielper, area historians, and professors from around the country. Vince Allen, software engineering manager for Spotify in New York, will discuss how Cash's "lonesome sound" and lyrics became grounded in his early life experiences. Members of the Dyess High School Class of 1950 (Cash's graduating class) will recollect those high school days when Cash was simply known as JR to friends and family. Note: Speaker events Thursday and Friday will be held in the Dyess Colony Visitor Center located in the Colony Circle.
Saturday morning keynotes include Bill McDowell, professor of art and art history at the University of Vermont in Burlington and Michael Streissguth, professor of communication and film studies at Le Moyne College in Syracuse, New York.
McDowell's recently published book, Ground: A Reprise of Photographs from the Farm Security Administration (FSA), includes photographic evidence of the hardships of farm life in Dyess from 1934-43 using FSA negatives never printed. Streissguth is author of three books on Johnny Cash and writer-producer of a documentary film on Cash's Folsom Prison concert. His presentation will be introduced by Rosanne Cash. Note: Saturday morning speakers will be at the Dyess Community Center.
Music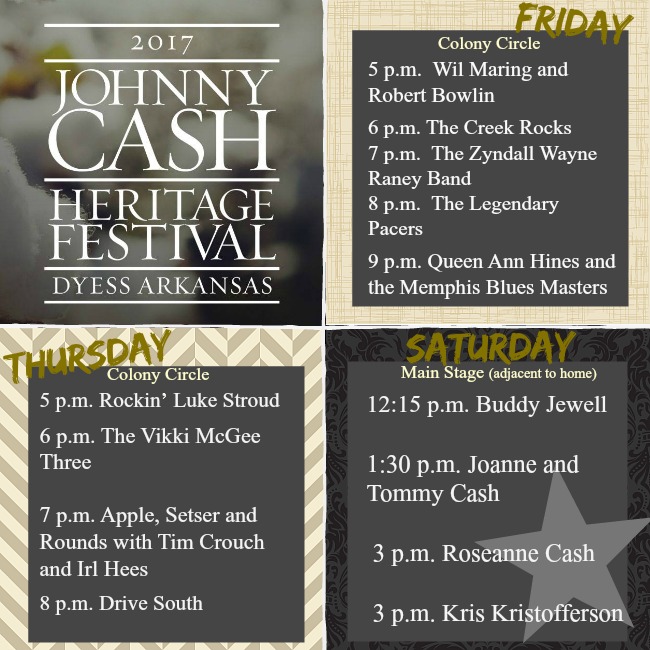 As part of KASU Music Nights, nine regional acts will perform Thursday and Friday from 5 p.m. until 9 p.m. in the Dyess Colony Circle. These performances are FREE. Saturday's music event (ticketed) will be held in the Cash Farmstead Field (next to the boyhood home). "Doors" open at 11 a.m. with music beginning at 12:15.
On a personal note, my family owns and farms the land immediately surrounding the Cash home. When the Cash Boyhood Project first began, we donated a few acres for the parking lot and future construction. My Daddy, who died of cancer over 20 years ago, would be THRILLED to know these musicians are performing on the land he farmed. He would be especially thrilled over multiple award-winning country music artist Kris Kristofferson. Kristofferson has 29 albums including three made while he was part of The Highwaymen, country music's first "supergroup" which included Johnny Cash, Waylon Jennings and Willie Nelson. In 2004, Kristofferson was inducted into the Country Music Hall of Fame. We get to see him in Dyess!
If you are interested in buying tickets for Saturday's concert, don't delay. The event is nearly sold out. Tickets may be purchased online via Ticketmaster or in person at the Central Box Office at Arkansas State University. For more information on all the performers and schedules, click HERE.
Other Heritage Festival Details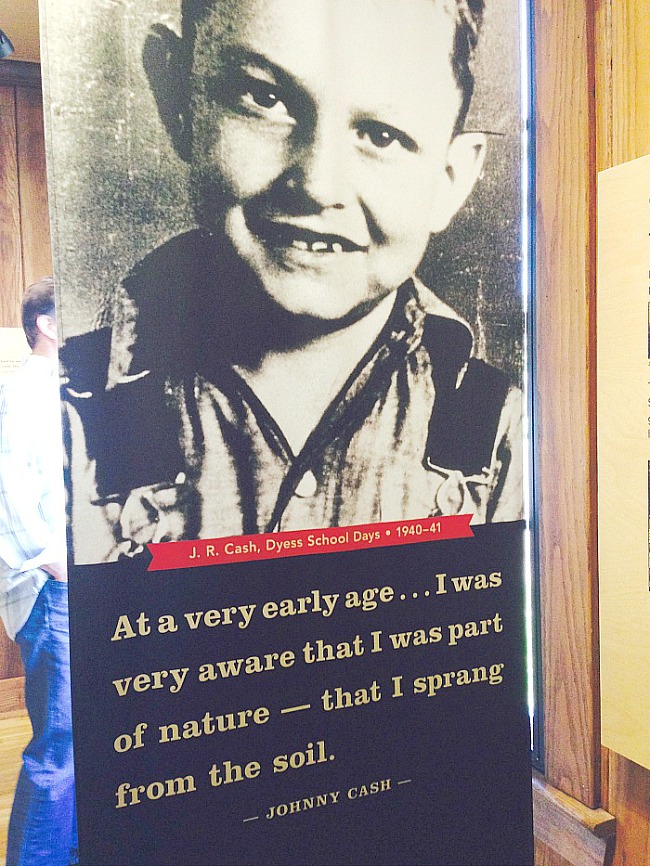 Tours
Throughout the weekend, tours of the Johnny Cash Boyhood Home will be held according to normal schedule (beginning hourly at 9 a.m.) with tickets purchased at the Visitor Center, 110 Center Drive, Dyess, Arkansas. For those attending the Saturday concert, the Cash farmhouse will be open at 3:00 for tours. In addition to the home, the Dyess Administration Building (on the Dyess Colony Circle) has been beautifully transformed into a first-class museum detailing the setting of Dyess Colony under the Works Progress Administration. Oral histories, photo displays, and original artifacts profile the acute struggles borne by families who paved the way for us. Be sure and set aside time during your visit for tours. Regular admission is $10 ($8 senior, $5 student).
Food
Bring your appetite! A variety of food vendors will be set up throughout the weekend in both the Dyess Colony Circle and the Cash field (Saturday). Offerings include bar-b-que, catfish, waffles, pizza, shaved ice, chicken-on-a-stick, turkey legs, Mempops, lemonade and more. Gluten-free options will be available, too. (Coolers and/or alcohol are not permitted at this event.)
Getting There
Dyess truly is smack dab in the middle of Mississippi County farmland. If you aren't a local, (and even if you are) you may have lots of questions about how a concert in Dyess, Arkansas, will work. Where to park? Where to stay overnight? How to get from Interstate 55 to the small farmhouse on a gravel road? These logistical details have all been covered on the official Johnny Cash Heritage Festival website (CLICK HERE).
The important thing to know—shuttle buses will regularly run from West Memphis, Marion, Blytheville, Osceola and Jonesboro. For shuttle information and reservation, click HERE. For those who prefer to drive, limited parking will be available in Dyess proper. (The gravel road leading to the farmhouse and Saturday concert will be closed to traffic. A shuttle will run from Dyess to the farm for tours and the concert.)
What about the mosquitoes???
When it comes to the Delta, mosquitoes are the proverbial elephant in the room. It's true, mosquitoes are well represented in Mississippi County. Prior to the concert, the field will be sprayed for mosquitoes. (I advise bringing spray just to be on the safe side.)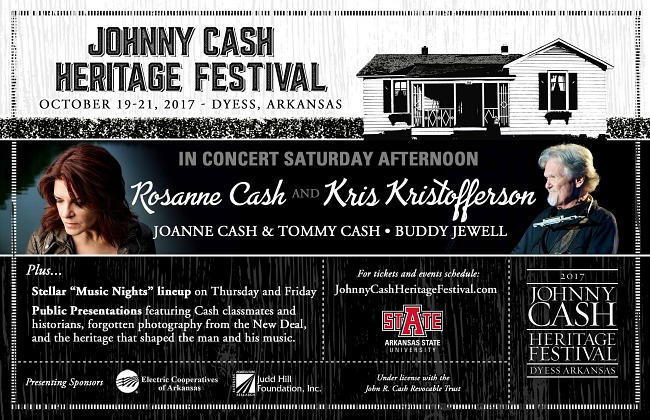 Photo courtesy of Arkansas State University
Circle the dates on your calendar and make plans now to attend the Johnny Cash Heritage Festival October 19-21. This is your chance to join the Cash family in honoring the legendary music of Johnny Cash and paying homage to the history of Dyess Colony and the hard-working farm families who participated in President Roosevelt's agricultural resettlement program. Proceeds from the weekend benefit Phase II of the Johnny Cash Boyhood Home Restoration Project including construction of outbuildings common during the 1930s and construction of a walking trail from the administration building to the Cash home.
If you have questions or need additional information, visit the official website at www.johnnycashheritagefestival.com or call 870-764-CASH (2274). There are fabulous things happening in Northeast Arkansas. Come see for yourself!
Header photo credit: Library of Congress