This Christmas season, Searcy's Living Nativity returns for its twelfth year. Produced by the Searcy First Assembly of God, the Living Nativity is an exciting and poignant highlight of the holidays, drawing people from all over Arkansas and beyond and averaging between 10 to 13 thousand visitors each year. To date, this Living Nativity has been seen and appreciated by well over 100,000 people.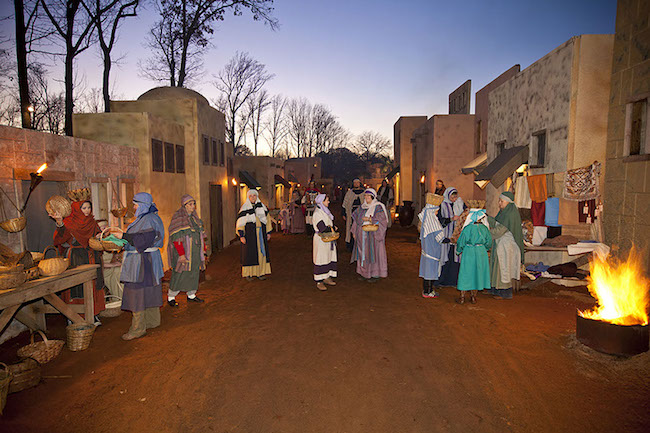 Mark Ferren, a children's pastor who helps direct the Living Nativity and carves the styrofoam the buildings are made from, says, "People thank us for doing it and say, 'this is our family tradition.' We're proud of our [Living Nativity]. A lot of work is going into it." This particular Living Nativity is known for being entirely outdoors and a drive through, and for its scale. A small city of buildings is depicted, hundreds of volunteers are costumed, and dozens of animals are featured, including donkeys, chicken, sheep, cows, horses, goats, and, of course, camels. "The big draw is definitely camels. Everybody loves to see the camels," Ferren acknowledges. While the animals play a big role, Ferren expresses that, "We hope that the best part is when you get to the end and you see the manger and you're reminded about what Christmas is really all about."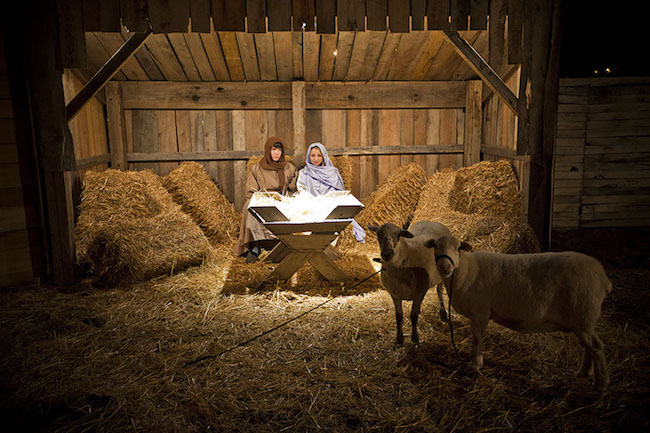 Approximately 250 volunteers, all members of the Searcy First Assembly of God, enjoy hosting the Living Nativity and working together to make the event a success. For this fairly large church, this is a bonding experience and an opportunity to get to know other members better. It's also rewarding for the volunteers to see the faces of their visitors and hear commentary from cars with their windows down. Ferren recalls feeling touched one time at hearing a little girl exclaim, "There he is! There's my baby Jesus."
Visitors who arrive are queued up and given cups of hot chocolate and an audio CD to play during their drive through the Living Nativity. As cars travel through the market and pass the temple and palace, the CD tells the story of events leading up to Jesus' birth in a manger—the last scene presented. People often leave car windows down for a fuller experience that includes hearing the commotion of the marketplace and animal noises, smelling torches and braziers and feeling the sharp chill of the night air. The drive takes about 12 minutes.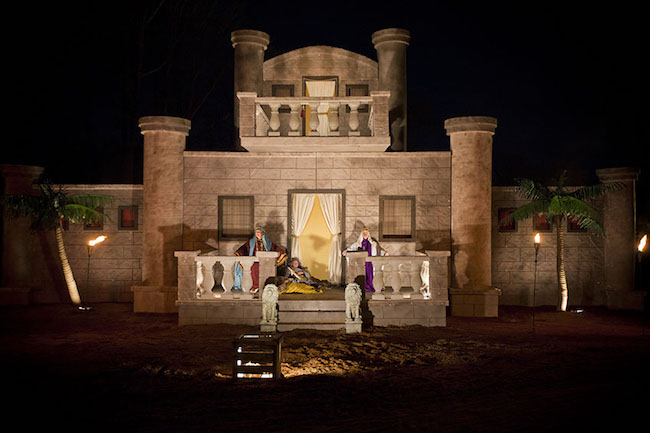 Last year, the Living Nativity took a break to undergo upgrades, including renovations to widen the gate entrance for large vehicles, as well as a fresh paint scheme and general repairs to the structures. Ferren points out that, "Because it is all outdoors, over the years it has taken quite a bit of wear." It returns this year better than ever. It's free to attend and runs two weekends, Nov. 30-Dec. 2 and Dec. 7-9 in the evenings. Visit to remember and experience "the reason for the season."
Located at 101 Benton Street in Searcy, Arkansas

Hours of Operation:
Friday, Nov. 30: 6:30 – 9:30 p.m.
Saturday, Dec. 1: 5:30 – 9:30 p.m.
Sunday, Dec. 2: 5:30 – 8:30 p.m.
Friday, Dec. 7: 6:30 – 9:30 p.m.
Saturday, Dec. 8: 5:30 – 9:30 p.m.
Sunday Dec. 9: 5:30 – 8:30 p.m.
For more information about other Searcy Christmas attractions and events, including their light displays and Spring Park Skating Rink, follow Searcy Holiday of Lights on Facebook.
Photos Provided Courtesy of Think Idea Studio