There's nothing quite like a drive through areas of beautiful fall foliage, especially in Arkansas. But when it comes to those fiery fall colors, a hike is hands down the most beautiful way to experience autumn in Arkansas. The opportunity to walk a trail, enveloped in an autumn array of mesmerizing colors… Well, nothing quite compares to the beauty and stillness of fall.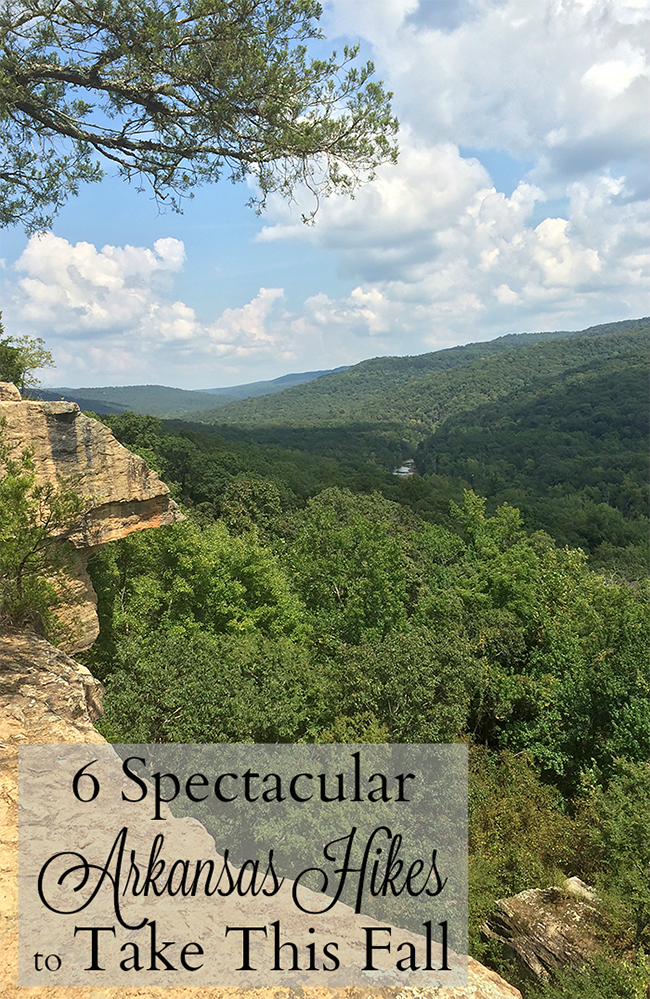 While we haven't explored all of Arkansas (there's just SO MUCH to explore), we've definitely found a few trails we love, trails that will be absolutely spectacular when the trees begin their glorious change.
Yellow Rock Trail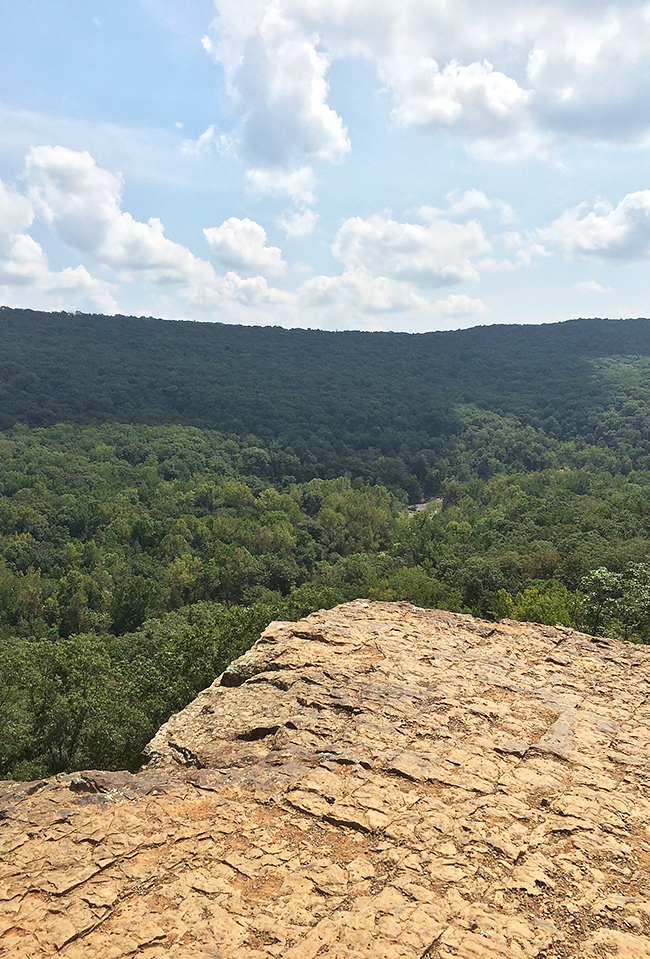 Located in Devil's Den State Park, Yellow Rock Trail is a moderate 3-mile trail that takes hikers up 300 feet in elevation. The trail itself is a beauty to behold with rock bluffs and forest all around. At the top is a beautiful view of the Lee Creek Valley with trees as far as the eye can see. It's a great place to stop and have a picnic and just enjoy the view. Dogs are allowed on the trail, as well.
Lost Valley Trail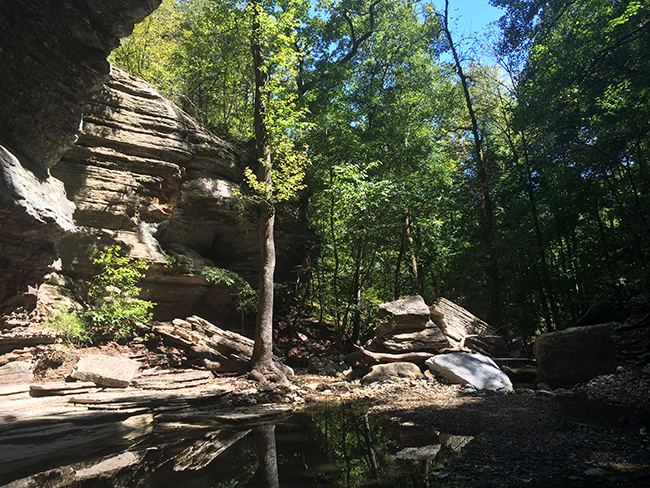 This trail is a part of the Buffalo National River area, located in the Ozark Mountains. The beginning of the hike is rather easy, but the trail grows to moderate difficulty the farther one hikes. It's 1.2 miles long. Surrounded by trees on all sides, the trail leads through a box canyon to Natural Bridge, Cob Cave and Eden Falls. The rock bluffs, stone steps, and gorgeous waterfalls make this trail one of my personal favorites. It's just too gorgeous for words, and pictures cannot do it justice. If you're planning a day trip, be sure to pack a picnic lunch, and take time to sit down in the shadow of Cob Cave to enjoy the view while munching on lunch with your family. Eden Falls, with its beautiful blue pool of water, also happens to be the perfect photo opp. At the beginning of the trail, visitors have access to a non-flushable bathroom and picnic area.
Ouachita National Recreation Trail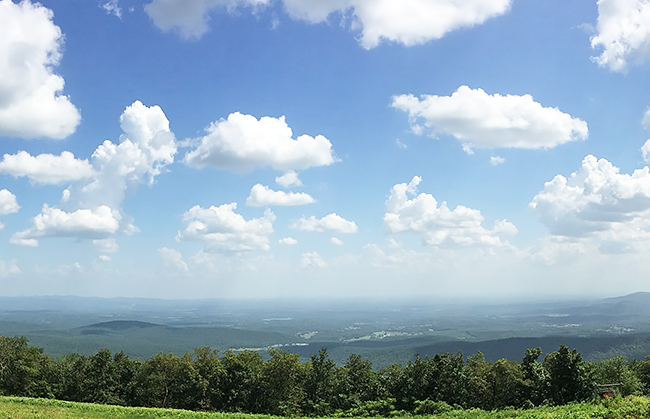 192 miles long, the Ouachita National Recreation Trail is a backpacker's/mountain biker's dream. 55 miles of the trail are for hikers only, while 137 miles of the trail are for both hikers and mountain bikers. If you've driven the Talimena Scenic Byway, you've probably seen parts of the Ouachita Trail. The trail climbs to between 600 and 2,600 feet in elevation. The western start of the trail begins near Talihina, Oklahoma, and the trail winds its way through the beautiful Ouachita Mountains in Arkansas, ending near Little Rock. The Ouachita Mountains offer a pine-scented getaway with sweeping views that are gorgeous beyond words. Our family loves dispersed camping in the Ouachita Mountains; they've become a favorite place for us to just get away from it all and enjoy the peace and quiet that only the mountains can bring.
Tanyard Creek Nature Trail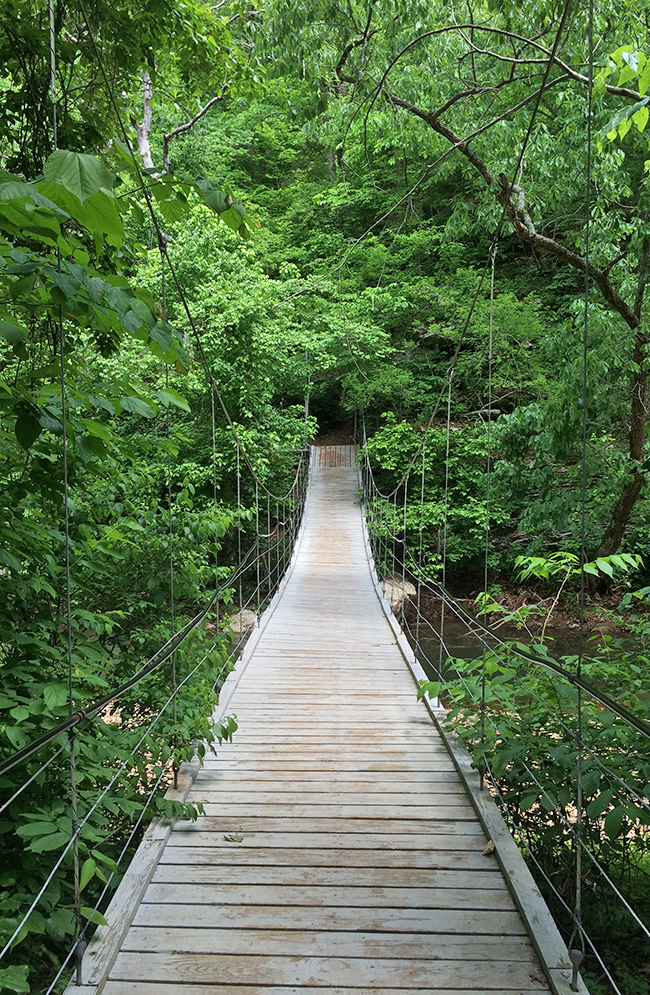 Located in Bella Vista, Arkansas, Tanyard Creek Nature Trail is a beautiful trail that's easier in terms of hiking. Beautiful forest, rock bluffs, the remnants of an old homestead, a suspension bridge and man-made waterfall all lend to a spectacular fall trail.
Lake Atalanta Trails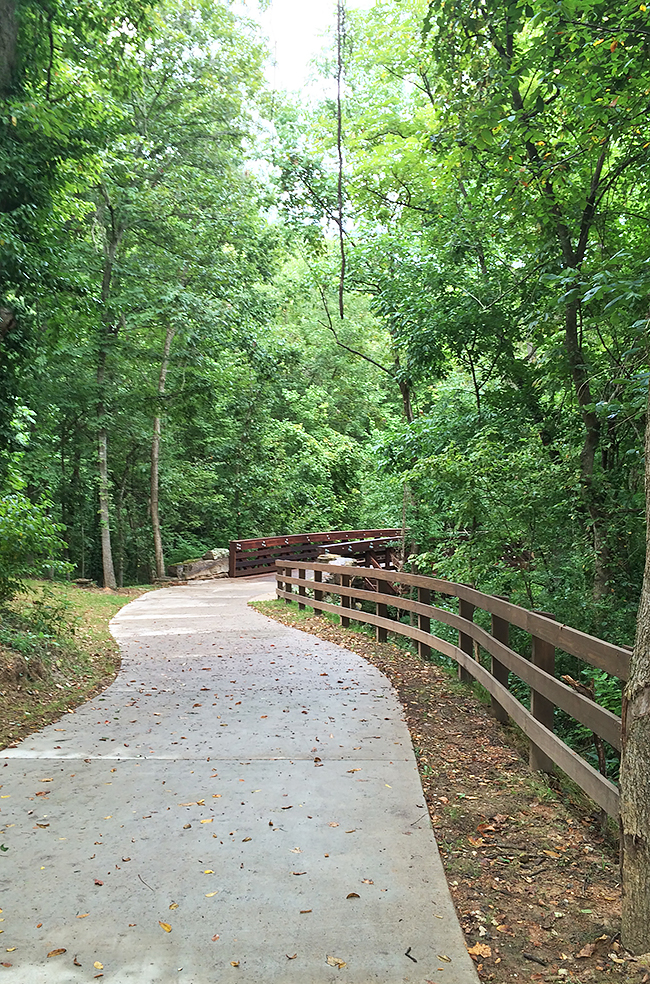 While most of the trails around Lake Atalanta are most known for mountain biking, the paved trail from The Railyard down to Lake Atalanta is another beauty to behold. We love going there for walks while our boys ride the trails. Easier in level of difficulty, hikers can follow the paved trail across a giant wooden bridge, all the way down the hill and curving around to Lake Atalanta below. While the lake is currently under construction, the new construction looks to provide a walking trail that goes clear around the lake.
Crystal Bridges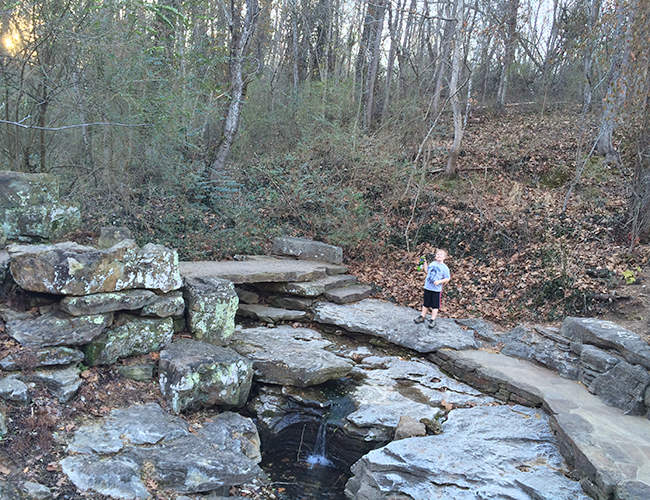 A visit to Crystal Bridges isn't just an expedition to view American Art… It also affords an opportunity to get out into nature with over 3.5 miles of trails. With both gentle and moderate trails, there's something for everyone. It's a beautiful place to be both in the fall colors and in the spring when dogwoods begin to bloom. There are trails for hiking and trails for both hiking and biking.
Wherever you choose to hike this fall, there's no doubt you'll be surrounded by the beauty of autumn. Arkansas is full of dense forests, and a variety of trees show off an abundance of autumn brilliance every year around this time.
Which Arkansas trails do you love to hike in the peak of autumn color?