Arkansas's geographical makeup is varied and unique. Geologists have classified five physiographic regions within the state – the Ozark Plateau, the Arkansas River Valley, the Ouachita Mountains, the West Gulf Coastal Plain, and the Mississippi River Alluvial Plain. Depending on the source, Crowley's Ridge is sometimes included as a sixth region. Because of this natural diversity, Arkansas is a geographic amalgamation of mountains, valleys, mineral deposits, and unique rock formations as well as diverse soil makeup and climate patterns across the state.
Middle schoolers all over Arkansas can recite the main categories of rocks – igneous, metamorphic and sedimentary. They will also likely tell you that most exposed rock surface in Arkansas is sedimentary and includes shale, siltstone, sandstone, limestone and dolostone.
Most American mountain ranges are typically formed by what geologists refer to as folding and faulting. Folding is caused by horizontal compression while faulting occurs when the earth is broken, such as by an earthquake. The Ouachita Mountains are a textbook example of folding and faulting. The Ozark Mountains, however, were formed differently; they are an ancient eroded plateau rather than a mountain range.
This mini earth science lesson provides insight to all of the factors that have contributed to a variety of fascinating and unique rock formations across the state. They are each beautiful and worth seeing in person. Let's take a look!
Photo courtesy of Arkansas Parks and Tourism
Yellow Rock Trail at Devil's Den State Park
The Yellow Rock Trail located at Devil's Den State Park is a moderate trail at just under 3 miles in length. It is quite busy on the weekends, but hikers get to view bluffs and many other rock formations including large fallen boulders. Along the trail, there is a vantage point of Yellow Rock, and when you reach Yellow Rock itself, the views are spectacular.
Natural State Bluff Shelters
Bluff Shelters, or rock shelters, are found throughout the Ozarks and are known to have been used by native people in Arkansas for over 10,000 years. Archaeologists have discovered the shelters were used for camping, storage, as burial grounds, sacred spaces and even as long-term residences, and in more recent times, they are known to have been used for hiding moonshine stills. While Bluff Shelters can be found in other parts of the country, the ones in the Ozarks typically stay drier, making them excellent shelters. As a bonus, the dry conditions preserved many, many artifacts, giving us some insight into those that came before us.
Two of the most popular bluff shelters in the Natural State are the Indian Rockhouse Cave on the Buffalo National River and the Rock House Cave at Petit Jean State Park.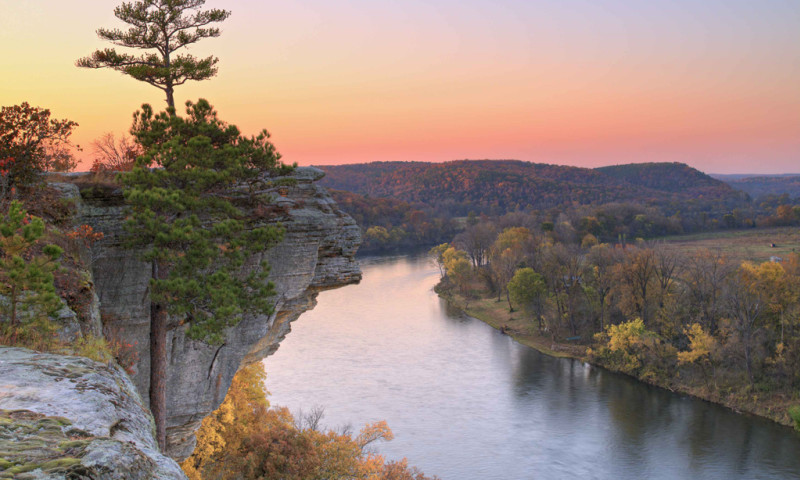 Photo courtesy of Arkansas Parks and Tourism
Calico Rock on the White River
A short drive from Norfork Dam and Blanchard Springs Caverns in north-central Arkansas is the town of Calico Rock. Named for the surrounding bluffs that are layered in tones of blue, black, gray, orange and red, the view as you drive into town over the White River from the south is breathtaking. You'll also want to check out the small museum dedicated to the history of the area and visit Calico Rock's Ghost Town.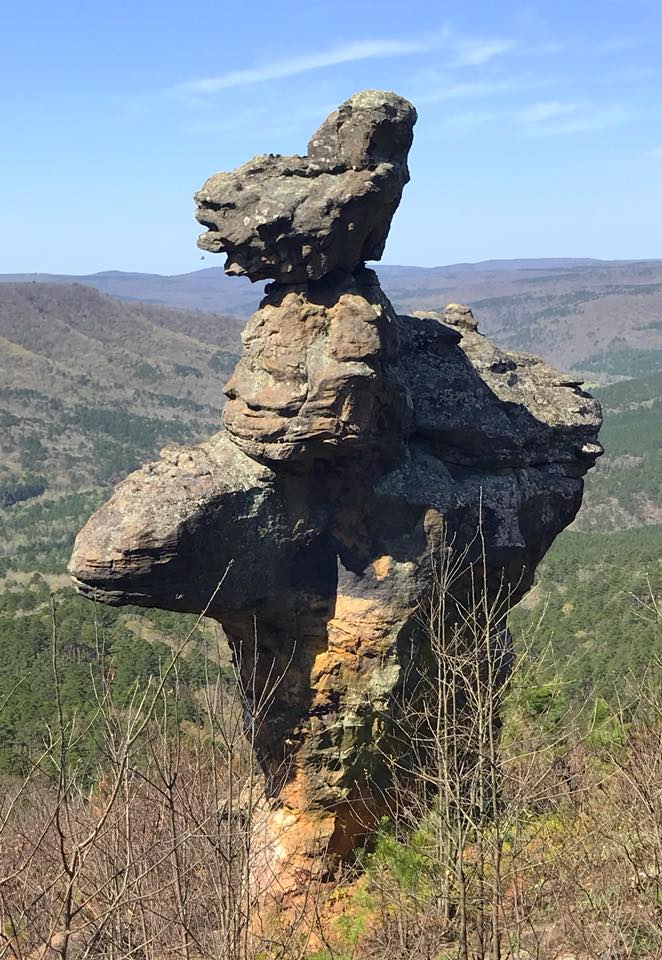 Photo courtesy of Edd French
Arkansas Sphinx at Hess Knob
A rock formation known in the Arkansas Sphinx at Hess Knob is a popular destination for hiking enthusiasts and is located between Hagarville and Sand Gap off Highway 123. With three access points that are all relatively short distance wise, there are some pretty steep inclines to get to the sandstone monolith, but the views are spectacular! Depending on weather conditions, you can see Mt. Magazine, Mt. Nebo, and Petit Jean Mountain from the top along with sweeping views.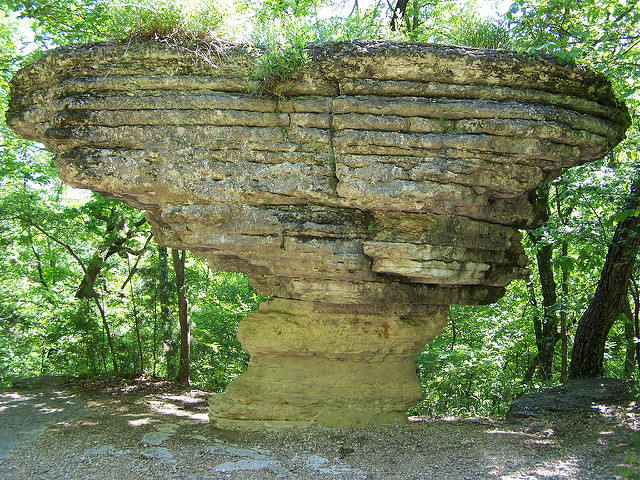 Photo courtesy of Dustin Holmes
Pivot Rock and Natural Bridge at Eureka Springs
Discovered over a hundred years ago, a little gift shop has marked the entrance to the pay-to-see rock pedestal and natural bridge for most of that time. While neither is the biggest of its kind in the Natural State, this little roadside attraction is a short, pleasant, easy hike. A favorite curiosity of Robert Ripley, Pivot Rock has been featured in Ripley's Believe It or Not on several occasions. The hike and rock formations are worth the small entry fee, and the gift shop is fun.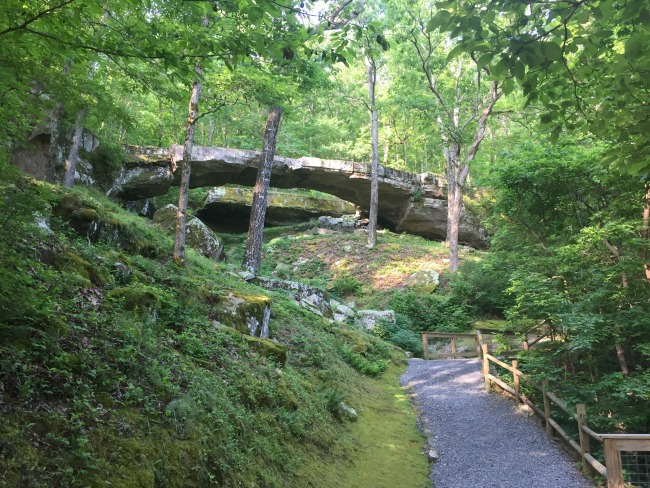 Photo courtesy of Natural Bridge
Natural Bridge at Clinton
Open March through November, the Natural Bridge in Clinton is a favorite stop for families heading to Branson, Missouri. With a steep, winding road that declines nearly 500 feet to the park is an attraction itself. Used as an actual bridge by Arkansas pioneers and loggers, the 100-foot limestone arch traverses Little Johnnies Creek. The site also hosts a pioneer log cabin museum and a small gift shop that have been in operation since 1969.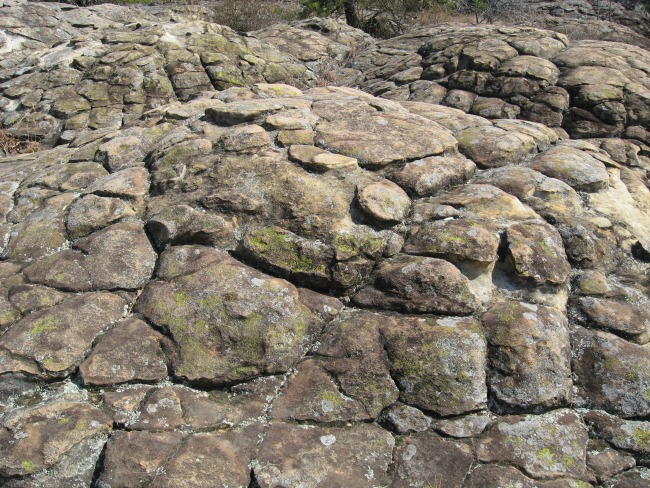 Photo courtesy of Angela Chandler, Arkansas Geological Survey
Turtle Rocks at Petit Jean State Park
Found along the Arkansas River Valley but most notably inside of Petit Jean State Park, Turtle Rocks are mounded polygonal structures that resemble turtle shells which is what gives them their name. How these rocks are formed is not entirely understood, but it is believed that a chemical weathering process occurs when water percolates through the rocks. Iron leaches through the rock and creates a weathering rind known as case hardening.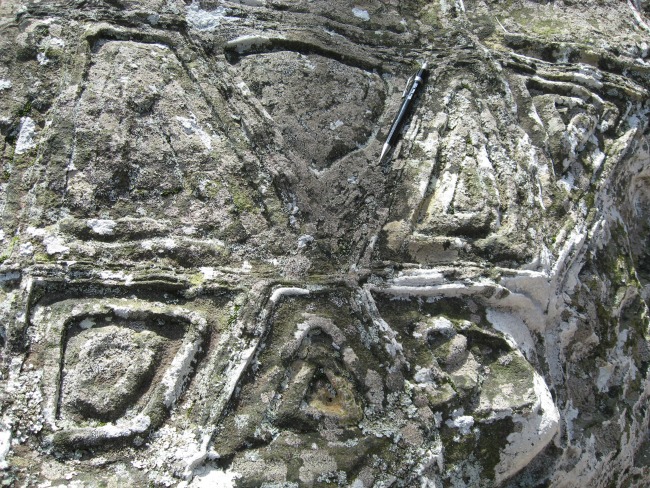 Photo courtesy of Angela Chandler, Arkansas Geological Survey
Carpet Rocks at Petit Jean State Park
Like the Turtle Rocks, Carpet Rocks, are also a formation found at Petit Jean State Park. Considered to be a pseudofossil, they are inorganic objects, markings, or impressions that might be mistaken for fossils, but they are actually iron that creates shapes and patterns in oxidized sandstone. They often feature colored bands which are likely created by the different stages of the oxidization process.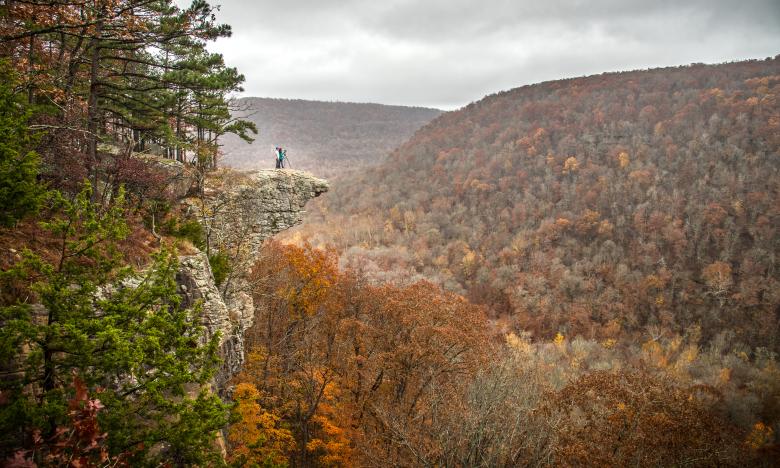 Photo courtesy of Arkansas Parks and Tourism
Whitaker Point (Hawksbill Crag)
A steep, rugged cliff or rock face, the crag at Whitaker Point resembles a hawksbill, thus its name. Hawksbill Crag, one of the most photographed locations in Arkansas, is accessed by a moderate trail that runs through the Upper Buffalo Wilderness area. Located between Fallsville and Ponca, the Whitaker Point Trail includes waterfalls during the rainy season, and the area is a great spot for viewing elk and hunting a variety of native wildflowers and trees.
Just a few of Arkansas' many, many beautiful, unique rock formations, the falling leaves of Arkansas' autumn will soon begin to open up the landscapes and provide breathtaking views of all the mountains, valleys, and fascinating rock formations the Natural State has to offer.