Eddie Boone, Arkansas' sports heritage and an author's journey
Late on Christmas night, at the tail end of a family visit, my cousin told me he would begin student teaching at Little Rock Central High School this spring.
Bravo, I told him on the way out the door. That school is my alma mater. I didn't have time to share why it's so much more.
First and foremost, there is the legacy of the Little Rock Nine. In 1957 nine African-American students volunteered to make Central High the first integrated major high school in the South. Eventually, with guidance from civil right leader Daisy Bates, they desegregated Central by sheer moxie, resolve and the help of the bayonet.
President Eisenhower had to summon part of the U.S. Army's 101st Airborne Division to escort them to class against the wishes of frothing masses and state governor Orval Faubus. The photos stemming from the crisis have become iconic images of the Civil Rights era. Indeed, likely the most well-known — Elizabeth Eckford staring steadfastly forward while Hazel Massery screams at her from behind — apparently prompted Eisenhower to send in those federal troops in the first place.
But these landmark moments, writ large on our national consciousness, were the exception to the rule. The process of integration often happened through smaller gestures, among teens and young adults who refused to bow to their elders' preconceptions. Much of it played out on baseball fields, football fields and basketball courts. On a recent Thursday night, I found myself on the side of one such court.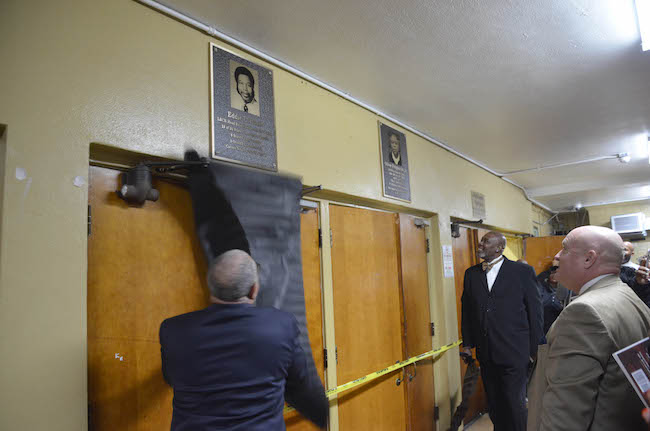 Eddie Boone, the first black coach in the Arkansas Activities Association, stood at midcourt, smiling as a crowd clad in black and gold cheered. By him stood the towering Oliver Fitzpatrick, the basketball coach who took his place at Central and retired from coaching earlier this year.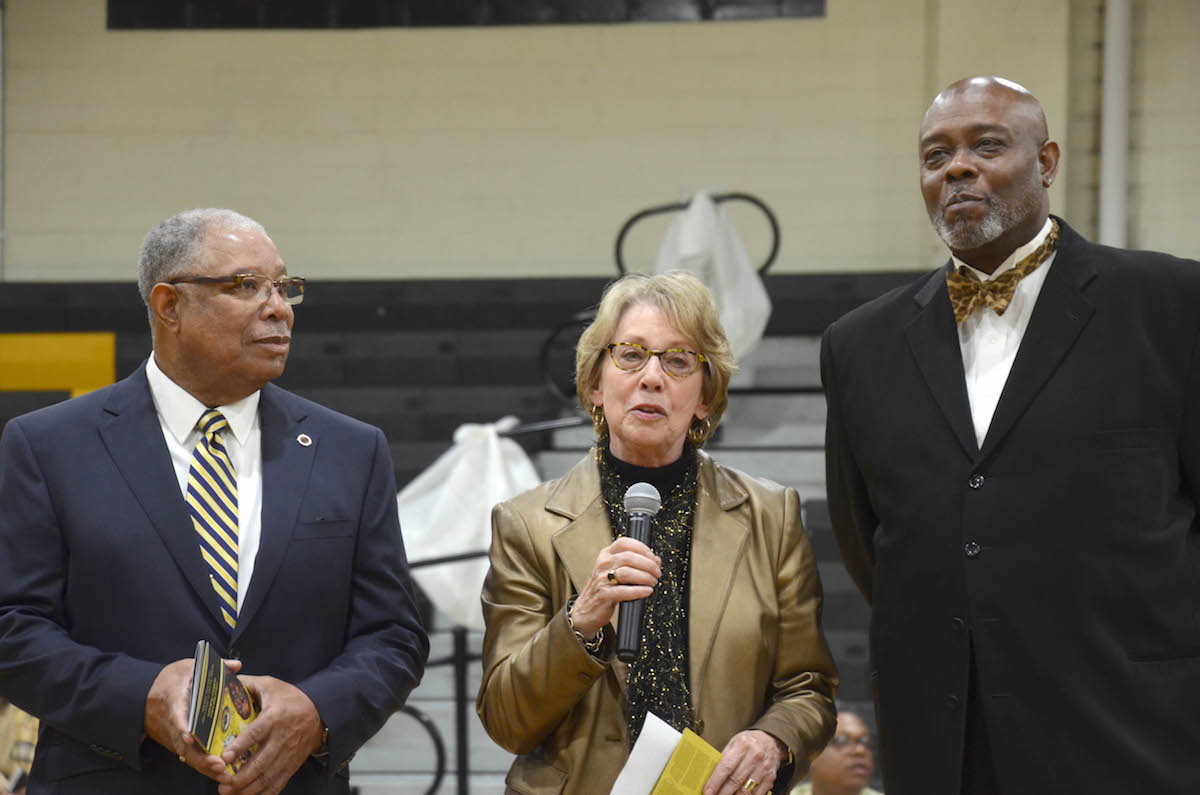 These men were being honored. The Central High Fieldhouse was named after them, and plaques unveiled to pay respect to their legacies.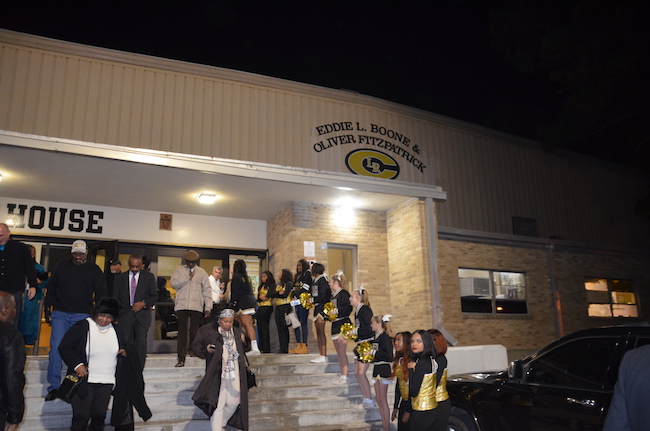 Seeing this dedication meant more, on a personal level, than anything I had experienced during the 40th anniversary of the Central High Crisis when I was a student there.  At that time, I listened to stories about the Little Rock Nine, watched them give speeches, learned about the past from textbooks and even acted in a drama class play about the 1957-58 school year. But I didn't feel like I played an active role in my community's heritage.
Frankly, I was way more interested in what was happening right in front of me. As the student newspaper sports editor, I reported on Central basketball games, keeping stats and interviewing Coach Fitzpatrick and stars like Joe Johnson about the wins they kept piling up.
As the years went on, though, I started caring about the past more.
As a Democrat-Gazette feature obituary writer, I began realizing the stories I wrote contributed to a trove of public history that would inform, and hopefully inspire, future generations.
I began writing more about the history of sports and race relations. Shona Ruth read them and a few years ago reached out to me. She told me about her father, Eddie Boone, a living legend and someone to whom I had been oblivious as a student reporter.
Trust came slowly, but after a while I found myself in Eddie's living room, listening to him share stories of playing Philander Smith football with the great Elijah Pitts and in the 1960s coaching basketball at an all-black high school in Menifee.
For decades, Arkansas' black high schools competed in an all-black athletic association while primarily white high schools competed in the Arkansas Activities Association. The athletic associations didn't officially integrate until August 1966. However, the season before that, Boone had essentially begun integrating of his own accord.
He had called the coaches of all-white schools in and around Conway County and gotten them to agree to play a limited schedule. The competitions were often only a quarter long. "They really wanted to see what I was all about, to see how I reacted to being in their all-white environments," Boone recalled.
Boone counseled his players not to act out even though they were "cheated a lot" in some of these games. They still did well thanks to his star player Thomas Johnson (who would become the first black Razorback player to play heavy minutes). But, in the following seasons, Boone also said he had good experiences going to play small towns farther into the Ozarks, places like Harrison and Shirley where "I never heard the n-word."
He also remembered the kind people of Timbo in Stone County laying out a delicious buffet for his team. Many folks in such relatively isolated communities had little if any experience with people of different races. "Little kids would come up and pinch us," he said. "They had never seen black people at all."
Boone's stories, an important part of our state's history, had gone unrecorded. So I wrote some of them, not as an article, but as a chapter in my anthology of public history features about Arkansas history, race relations and sports. Then, with funding from the Black History Commission of Arkansas, a book was published: "African-American Athletes in Arkansas: Muhammad Ali's Tour, Black Razorbacks & Other Forgotten Stories." Shona Ruth and her dad provided me some rare photos to use in it, including one image of Eddie (as a high school quarterback in Stuttgart) on the cover.
The book has provided me with an opportunity to hear more amazing stories about Arkansas' sports past and give speeches. After a couple talks, I felt honored to converse with the likes of Elizabeth Eckford and Annie Abrams, a longtime central Arkansas activist and friend of Daisy Bates.
I've moderated on panels, too, including a special one in the library of Little Rock Central High. That panel featured Johnny Greenwood, the first black head coach at Central High, and his successor Eddie Boone. They shared stories from the 1960s and 1970s when Boone coached star players like Houston Nutt in football.
A roomful of Central student-athletes and coaches sat in front of us. At one point, Oliver Fitzpatrick stood and spoke passionately and thanked Boone for serving as his mentor in the early 1990s. His voice rising, Fitzpatrick said he deeply appreciated what Boone had done to help pave the way for future African-American coaches like himself.
Boone, for instance, is also:
The all-time winningest African-American coach in Arkansas' highest classification of boys varsity basketball competition
The first black basketball instructor at a Razorback basketball camp (in 1972 under UA head coach Larry Van Eman)
Recipient of nine Coach of the Year honors
[Go here to read more details about the legacies of Boone and Fitzpatrick]
More than a year later, I returned to the LRCH library for the reception of the dedication ceremony. Boone, Fitzpatrick and I greeted each other with smiles. I was introduced to their relatives who had arrived from other states. Shona Ruth told me my book had shone a light on Boone's legacy and helped launch honorary events like this one.
That felt good. I hadn't "created" history, but I was doing my best to carry it forward to the wider masses, now and in the future. That effort is appreciated, which means more to me than any Christmas gift I've ever received.