It's time again for live racing at Oaklawn! Head out to see the beautiful horses, check out what's new at Oaklawn and fill up on 50 cent corned beef sandwiches. Parents of 5th-9th graders should check out the Tween Night opportunity being offered by Crystal Bridges Museum in Northwest Arkansas. Central Arkansans will enjoy The Big Buck Classic, a much-anticipated event for many outdoorsmen in the state.  Southern Arkansans will want to check out John King and yogis in Northeast Arkansas will want to head out to St. Bernards for a yoga session complete with mimosas! It's a great weekend to be in Arkansas.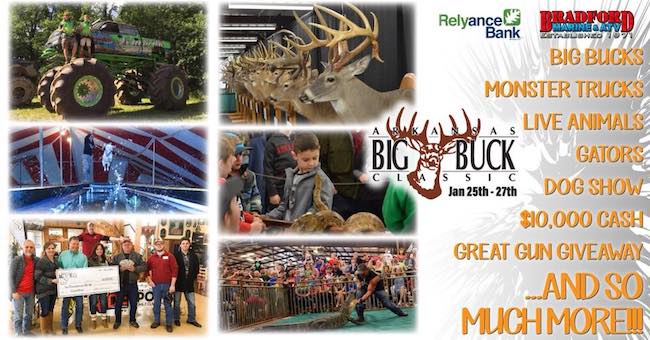 29th Annual Arkansas Big Buck Classic (Little Rock)
Arkansas' premiere show for the outdoor sportsman will be this weekend at the AR State Fairgrounds in Little Rock. You will be able to see Arkansas' best bucks from the 2018 Season!  Hear the story, meet the hunters, and see the wall!  The Classic offers a place for outdoorsmen to observe hunter's success from different parts of the state and provides a place to display each hunter's deer for all to see.
Venue: Arkansas State Fairgrounds
Date: January 25-27
Time: Friday 1 p.m.-9 p.m.; Saturday 9 a.m.-9 p.m.; Sunday 10 a.m.-6 p.m.
Admission: Tickets Required-Click Here
Contact: Click Here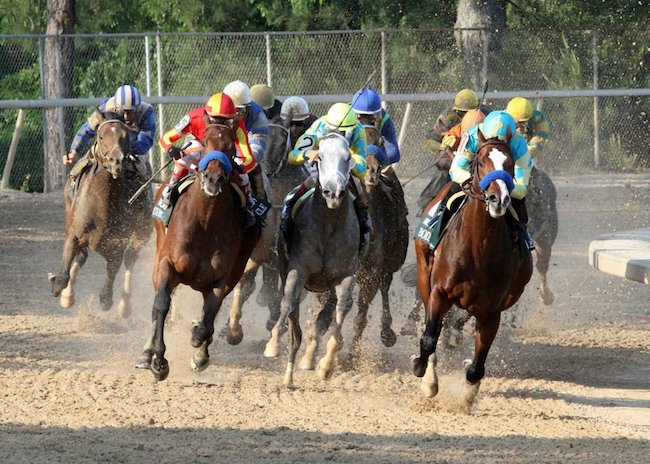 Photo Credit: Oaklawn Gaming & Racing
115th Annual Live Racing at Oaklawn: Opening Day (Hot Springs)
January 25 is Opening Day at Oaklawn! The thoroughbreds of Oaklawn Park offer some of the most heart-stopping excitement you'll find in The Natural State. See the nation's top names battle it out at one of the nation's finest tracks located in the middle of historic and beautiful Hot Springs National Park. Saturday, the park will host its annual Corned Beef Day. Enjoy Oaklawn's signature corned beef sandwich for only 50 cents and soft drinks for only 10 cents. 
Venue: Oaklawn
Date: January 25
Time: 12:30 p.m.
Admission: Tickets Required-Click Here
Contact: Click Here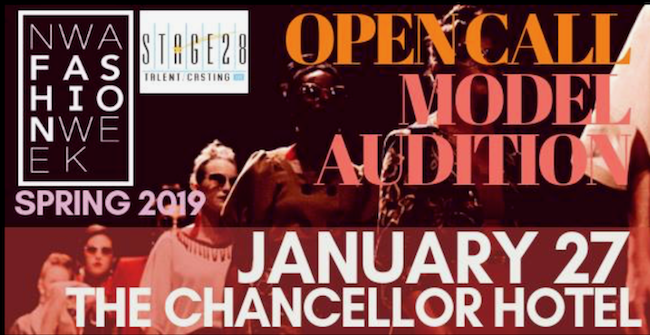 NWAFW Spring 2019 Open Call Model Audition (Fayetteville)
Northwest Arkansas Fashion Week is hosting open model auditions for Northwest Arkansas Fashion Week Spring 2019. All models interested in walking for NWAFW Spring 2019, can attend the auditions. They are asking for models of all looks and sizes to audition. Models must be 18 years or older. Aspiring models should wear fitted jeans, fitted white or black tank top, and heels (no wedges).
Venue: Chancellor Hotel, Bella Vista Room
Date: January 27
Time: 2 p.m.-4 p.m. (A-H 2 p.m.  I-R  2:30 p.m. S-Z 3 p.m.) ** Please arrive at the time based on your last name**
Admission: Click Here for Details
Contact: Click Here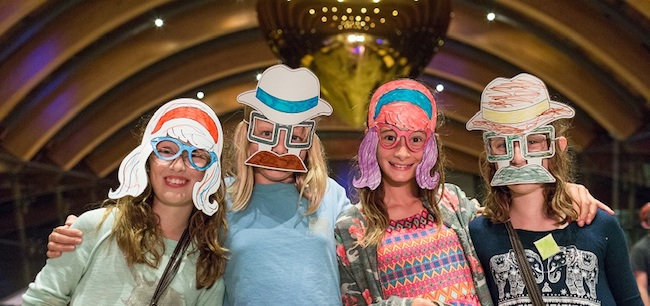 Tween Night (Bentonville)
Calling all 5th-9th graders to head to Crystal Bridges Museum for Tween Night! Crystal Bridges' fantastic Teen Council has planned a great evening for young students featuring a DJ, dancing, artmaking, and unique gallery experiences.  Tween Night is completely free and open to all area students in 5th grade — 9th grade. Parents can drop off and pick up their tweens, or hang out in the parent lounge during the event.
Venue: Crystal Bridges Museum of American Art
Date: January 26
Time: 7 p.m.- 9 p.m.
Admission: Free
Contact: Click Here
National Seed Swap Day (Little Rock)
The seed swap is a fundamental part of human history. Seeds were one of the first commodities valued and traded. Today, modern gardeners collect and exchange seeds for many reasons ranging from cultivating rare, heirloom varieties to basic thrift. Join park interpreters and Master Gardeners to learn about the tradition as well as the native plants of Arkansas and receive a few seeds to add to your garden.
Venue: Pinnacle Pavilion (11901 Pinnacle Valley Road, Little Rock)
Date: January 26
Time: 9 a.m.- 12 p.m.
Admission: Free
Contact: Click Here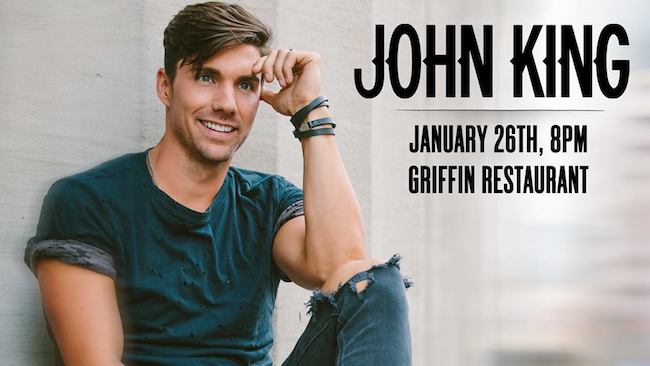 John King  (El Dorado)
Driven to do what he loves, John King left a small mountain town in Georgia to write number 1 songs, tour across the US, and open for award-winning artists. Murphy Arts District (MAD) is pleased to announce that King will perform in the Griffin Restaurant on Saturday evening, January 26, 2019 at 8 p.m.
Venue: Griffin Restaurant
Date: January 26
Time: 8 p.m.
Admission: $30
Contact: Click Here

St. Bernards YoMosas (Jonesboro)
Come say Namaste with a mimosa in your hand! If you are in the Jonesboro area this weekend, check out YoMosas. This event will feature one 45-minute yoga class taught by Bethany Davis. This class costs $15 and includes one free mimosa. Other alcoholic drinks will also be available for purchase. The proceeds from  YoMosas will support all women's and children's services through St. Bernards, including the Neonatal Intensive Care Unit, which is the only such unit in the region.
Venue: St. Bernards Healthcare
Date: January 26
Time: 12 p.m.
Admission: $15
Contact: Click Here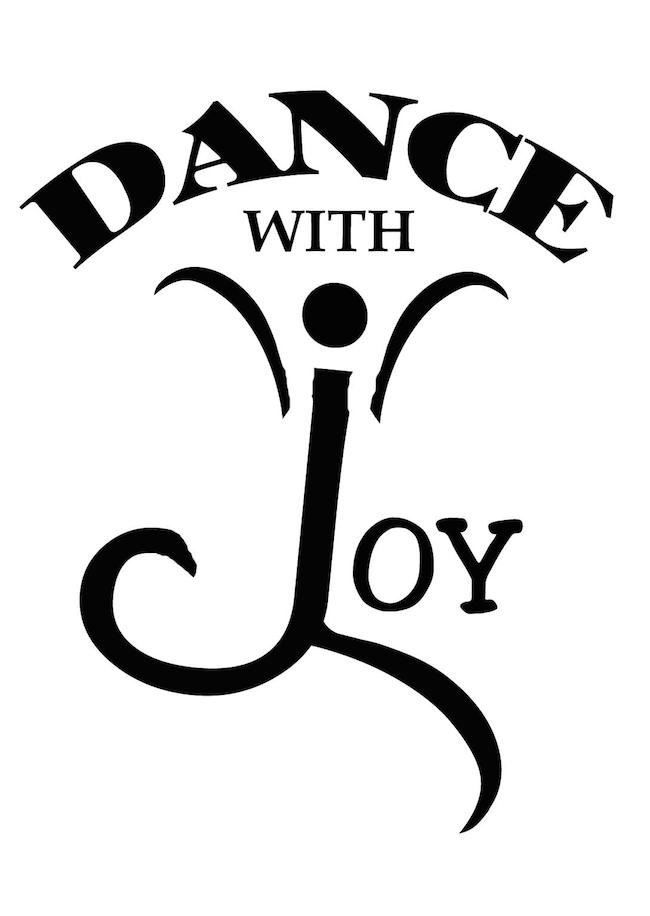 Adult Hip-hop Class (Russellville)
Join instructor Aubrey Reed for a fun, upbeat, and energetic way for you to learn the moves of today. This class is an 8-week Adult Hip Hop class. 
Venue: Dance with Joy Enterprises. Inc. (2007 South Arkansas Avenue)
Date: Starts on January 28
Time: 7:30 p.m.
Admission: $126 for 8 weeks
Contact: Click Here
Header photo provided by Arkansas Parks & Tourism.