As an animal lover, I tend to observe and connect with the domesticated and wild more than I do with people. Several years ago, my husband Bill and I visited a new church. A gorgeous Irish Setter caught my attention as she led her owner to his seat.
Assuming the dog was a guide dog, I was taken aback a few days later when I drove into our veterinarian's parking lot with our Sheltie. This same man drove his van into the space next to mine with his dog looking over the dashboard. What?
A week later, the mystery was solved when a front-page article appeared in our local newspaper. The gentleman had diabetes. His service dog was trained to warn him when his blood sugar levels were off-kilter.
There seems to be no end to the ways man's best friend's sensitive nature can be trained to save lives. Whether they're guiding the visually impaired, detecting a physical or emotional imbalance, discovering explosives or illicit drugs, dogs have become a vital part of our workforce. Some dogs are now trained to detect the faint emissions from electronic memory devices, like thumb drives and tiny camera cards, easily hidden in suspected child pornographers' couches and bookshelves.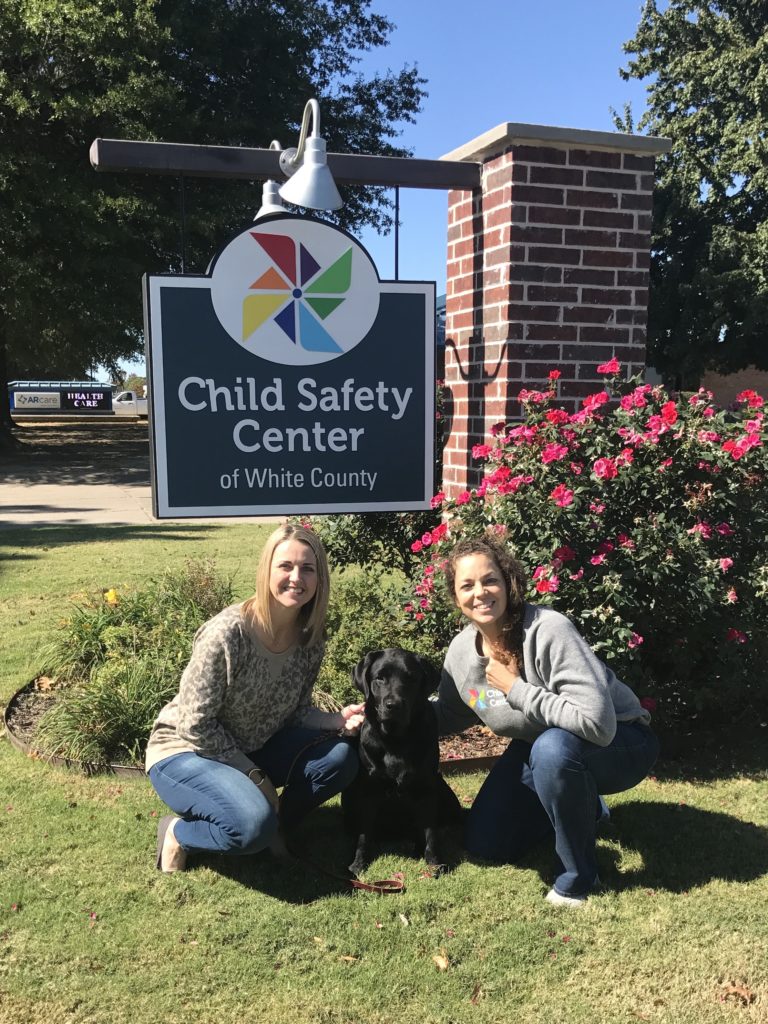 Jake with Handlers Robin Connell and Felicia Patten  (Caitlin Forcier)
The Child Safety Center of White County (CSC) now has a dog with a job. Meet Jake, a magnificent black English Labrador who has earned his degree and now serves as a facility/courtroom dog. Starting at six months old, Jake was in school for 18 months.
During those months Jake learned to stay focused on his trainer/handler.  Cats sauntered by, baby chicks played between his legs, and the scent of foods tried to lure him in another direction. With his trainer, Jake walked on various surfaces all the while ignoring squirrels and ducks. Think Marine training for dogs, strengthening their mental focus and resiliency. Jake was also bred to reduce his having a common Lab problem—hip dysplasia.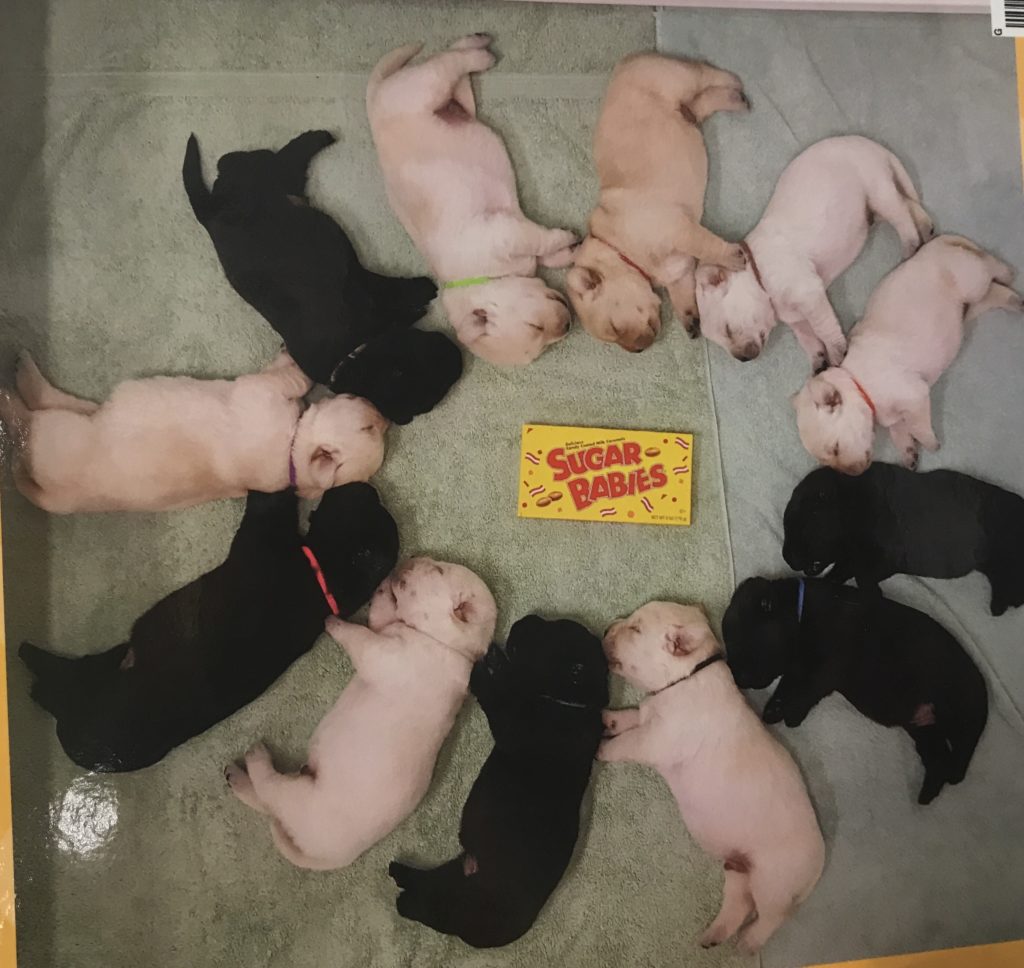 Photo courtesy of Support Dogs Inc.
Most importantly, Jake had to possess the right personality for working with children. Jake's temperament and training keep him from reacting to a child's sudden movements or outbursts. As a trained professional at the CSC, Jake helps the staff fulfill the CSC mission to empower, protect and restore children.
When children ages 2-18 walk through the big yellow door of the Child Safety Center, they are greeted not only by a warm and concerned advocate but also a welcoming dog. Jake sits by the child's side during the forensic interview, providing quiet companionship. His ability to soothe a child who has been sexually and/or physically abused is foremost, especially since even a consoling person's touch could feel threatening.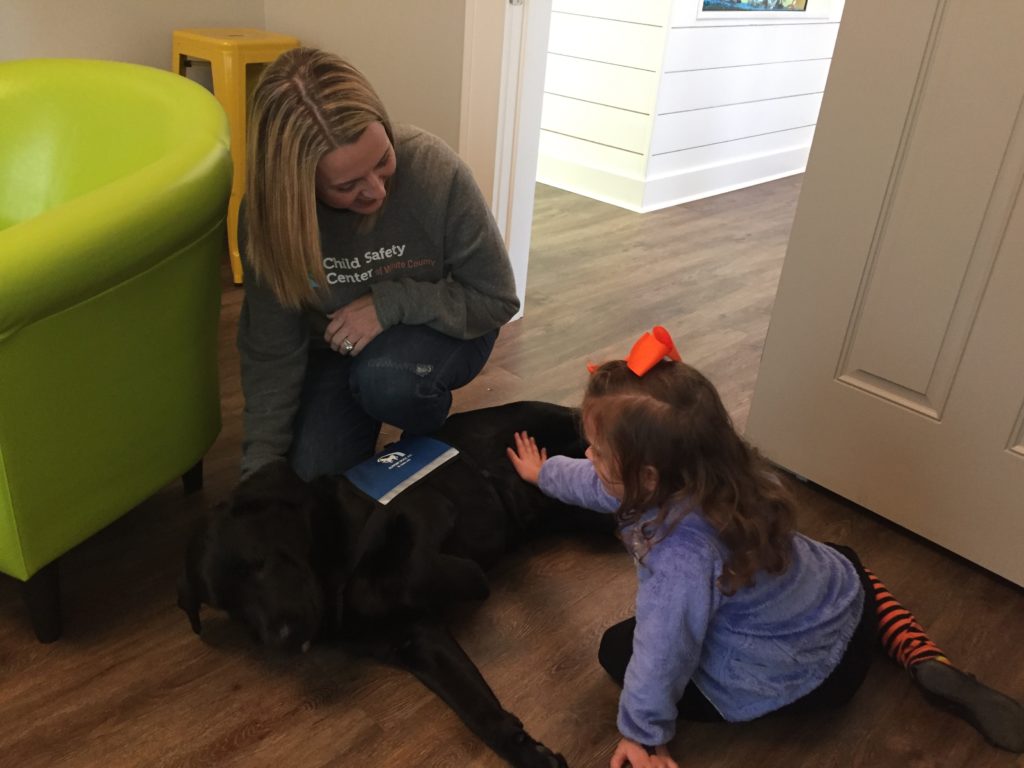 Jake with his handler and a staff member's daughter after a mock interview. Photo by Ashel Parsons.
If a child has to go into the courtroom to give testimony, Jake can sit in the witness box to support the child. Scientific research has proven how a calm and gentle dog reduces fears and anxieties. It's also noted when children are not frozen with fear, they are better able to recall more details about events and how they did or did not occur.
A few facts about Jake:
Getting Jake was a community effort. During this year's ArkansasGives—a twelve-hour online giving event hosted by Arkansas Community Foundation in April—money was raised for the CSC to participate in the facility dog program.
Jake was bred and trained by Support Dogs Incorporated (SDI) located in St. Louis, Missouri.
Executive Director Robin Connell and Forensic Interviewer Felicia Patten trained intensively at SDI for a week. One of the trainers will make regular visits to the CSC to check on Jake and the handlers and help as needed.
When Jake's vest is on, he's clocked in at work. This is when we as adults have to use restraint. It's tough not to call his name, look into his eyes and pet his big bear head, except that they have to understand Jake has a job to perform—helping children.
Once his vest is off, Jake is off the clock. He can play in the yard, go running with his handler's husband, Patrick, and just be a family pet with Robin, Patrick and their two teenagers.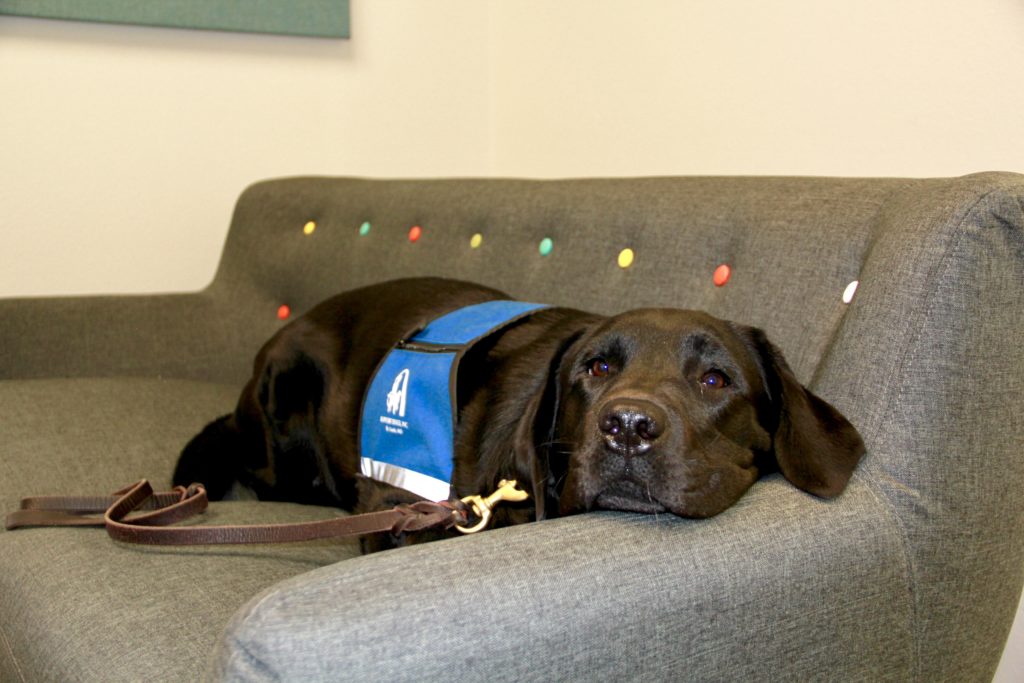 Jake taking a short break and relaxing on his couch. 
Understanding the various terminology used for dogs at work:
Service Dogs are trained to help owners (one owner by law) who have disabilities such as a visual impairment, hearing impairment, diabetes, seizure disorder, mobility impairment or mental illness (such as PTSD).
Therapy Dogs can be pet dogs with a few weeks training to provide comfort and affection to people in hospitals, nursing homes, schools and disaster areas, to name a few.
Facility/Courtroom Dogs are graduates from an assistance organization accredited by Assistance Dogs International, which sets the highest standards for the dogs' training and their handlers.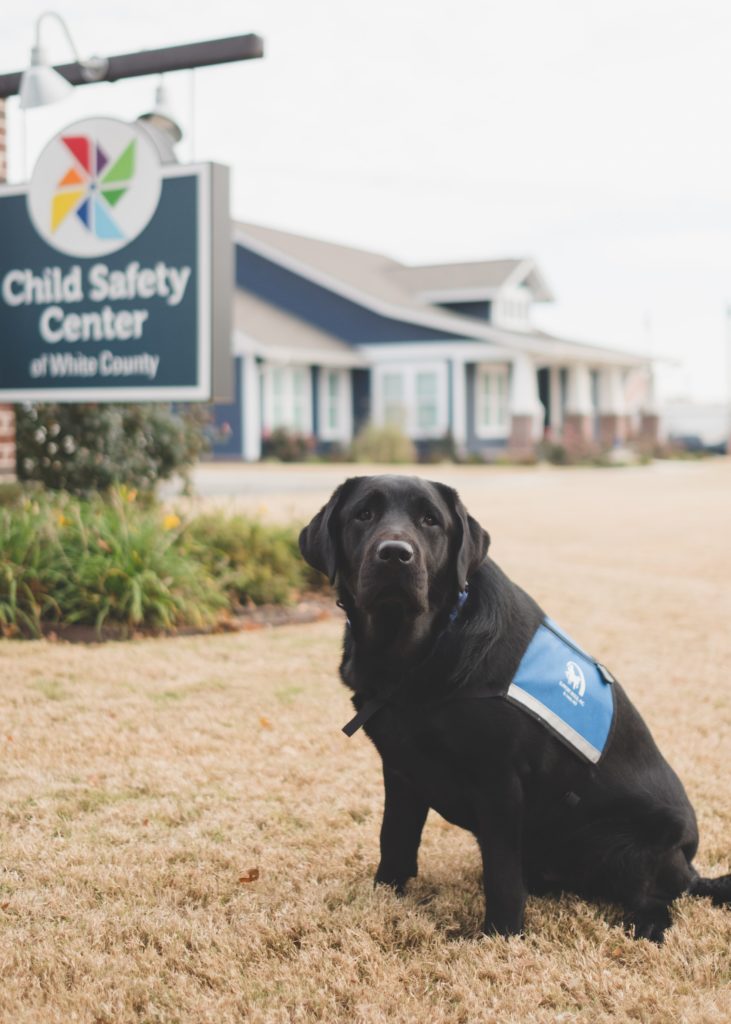 Jake on the job.  Photo by Ashel Parsons
For more information about the Child Safety Center and seven counties served, go to www.childsafetycenter.org and their Facebook page Child Safety Center.