Storytelling is a special type of magic. Listening to or reading a good story can take you on a journey of experiences and emotions: excitement, fear, elation, curiosity, amazement. There's nothing like a good story.
It's even more thrilling when those stories hit close to home. When someone tells you about something that includes names, places, and faces that you know, you tend to lean in a bit closer to hear all of the details. Arkansas has a rich history of folklore, spanning centuries. The Ozarks are a fertile ground for traditions, beliefs, tall tales, and more that have long enthralled some renowned folklorists (such as, Vance Randolph, John Quincy Wolf Jr, and W.K. McNeil) who made it their life's work to research and document such things for posterity. It's thanks to these enthusiasts and other lovers of storytelling that we continue to pass down some of the very stories that make Arkansas unique.
One subset of these folkloric gems reads like a southern U.S. version of "Fantastic Beasts and Where to Find Them."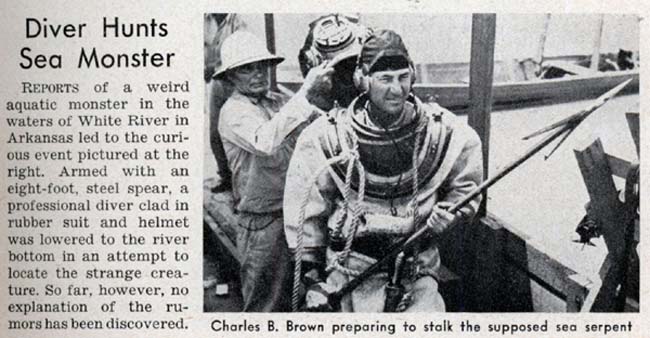 Photo from The Cincinnati Cryptozoological Society blog
The White River Monster
Did you know that Arkansas has its own version of the Loch Ness Monster? Tales of a creature known as "Whitey" date back to over a century ago, in the early 1900's (though some people believed Whitey had something to do with capsized boats during the Civil War). The first documented report was in December of 1912 when timber workers reported seeing something strange floating at the bottom of the White River. They likened it to a humongous turtle, estimating that it weighed at least 300 pounds. A hunting party was apparently formed to try to capture the creature, but reports of their results are unknown.
It's  assumed, however, that they were unsuccessful because reports of a strange creature in the White River persisted sporadically over the years. However, it was a 1937 report that really captured the imaginations of the masses. In July of that year, plantation owner Bramlett Bateman filed a report of seeing a grey-skinned monster in the White River (near Newport) that was the width of a car and about the length of three cars. His account made national news and was even picked up by Time magazine for their August edition.
Nearly 40 years later (in 1971), the reports started again. With each telling, Whitey's appearance has been described differently. Some reported a horn protruding from the forehead and a size close to 1,000 pounds. Others claim to have seen spines growing from a back that was at least 20 feet long. There are even reports of Whitey leaving behind the White River and making tracks on land. Three-toed, 14-inch tracks, to be exact!
Fascination with this mystery creature grew so much that there is actually legislation in place to protect it. Senator Robert Harvey signed a bill (1973) into law that sanctioned a portion of the White River (between Newport and Possum Grape) as the White River Monster Refuge. This bill makes it illegal to cause any harm to Whitey within the realm specified.
As for possible explanations of exactly what Whitey is, one theory is that it is a giant Alligator Snapping Turtle. This magnificent creature is known to live for up to 150 years, has a pointed head, a spiny back, can be up to 400 pounds, and can appear grey in color. It just might be what Arkansans have been spotting up and down the White River.
If you want to catch a glimpse of Whitey's alleged stomping grounds, why not plan a visit to Jacksonport State Park where you can get a good view of the White River Monster Preserve? While you're there, you can also check out the other historic landmarks of Jacksonport, including the South's last original paddle wheel steamboat.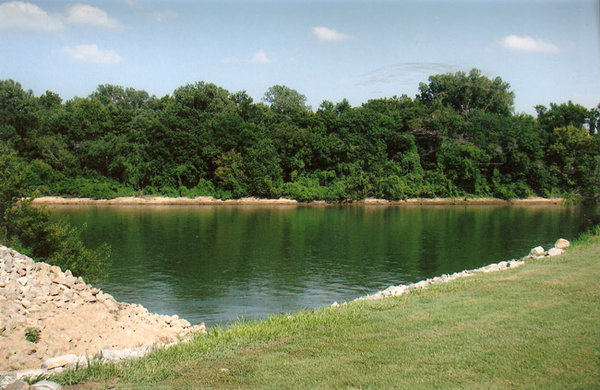 Source: Mike Polston
The Gowrow
The White River Monster isn't the only mysterious creature lurking in the folkloric history of Arkansas.  The Ozarks is said to be home to a creature called the Gowrow, which is best described as a wingless dragon. Reported as having two tusks on its head, webbed feet, a spiky back, and a formidable spear at the end of its tail, the 20-foot-long nocturnal monster preys on livestock and small animals. According to a story that appeared in the Arkansas Gazette on January 31, 1897, the Gowrow is so named because of the sound that it makes.
The story, written by Elbert Smithee, tells of a Little Rock businessman named William Miller who had heard of the monster and sought to capture it. The story goes on to say that he formed a hunting crew who tracked the beast to a cave that was purportedly scattered with the remains of both animals and humans. The exciting tale ends with the Gowrow emerging from the lake and putting up a big fight before falling victim to Miller's crew. Miller then claimed to have sent the body to Washington D.C. to be put on display at the Smithsonian Institution, but the body never arrived, which leads many to believe that it was all a grand hoax.
Vance Rudolph believed that if the Gowrow existed, it was not a single creature, but some unidentified species. He recounts stories from people who claim to have had encounters with Gowrows across the state, including someone who was spelunking in Devil's Hole (Boone County) and another person who claimed to have lured one in captivity by feeding it so many apples that it got stuck in a burrow. This person then went on to charge 25 cents per person to anyone who wanted to see the Gowrow. The catch: whenever he had a crowd of paying spectators, he would put on a show of the Gowrow having gotten loose and him barely escaping with his life. So there is no documentation of there ever being an actual creature in his possession, let alone the Gowrow of legend. However, tales of this mythical beast still travel throughout the Ozarks.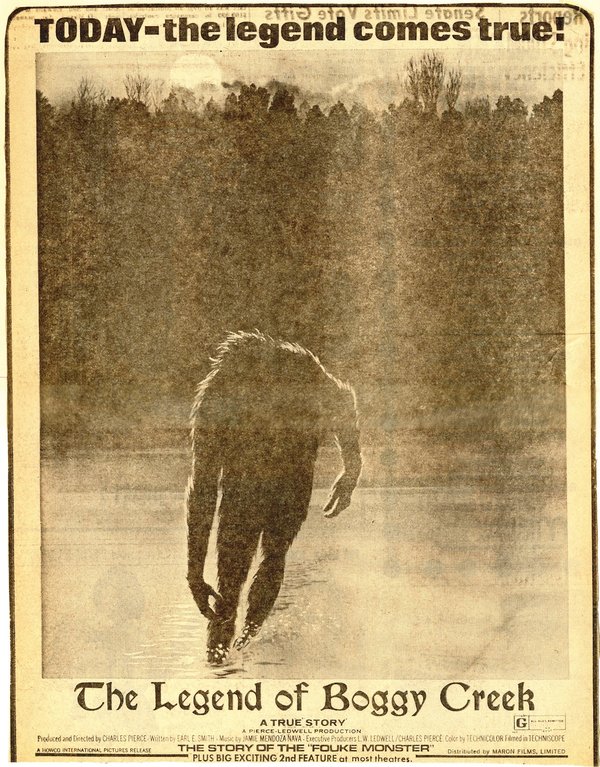 The Fouke Monster
Another creature of Arkansas lore is the Fouke Monster – named after the town in which it was purportedly sighted. Although sightings date back to the late 40's, it wasn't until 1971 that nationwide interest was garnered. In May of that year, Fouke resident, Bobby Ford reported that he had been attacked by a hairy man-like beast that stood at least seven feet tall, moved at a fast speed, and had red eyes. His account, which was reported by the Texarkana Gazette, was that he had been attacked by the beast in his home. His run-in resulted in him being treated at the hospital for minor injuries and shock. Other eyewitnesses associated with Ford claimed that they had seen or heard the beast as well over the course of several days that it had been lurking around the Ford home. They even claim to have shot the monster, but an investigation did not yield either blood or a body. What they did find, however, were strange tracks and claw marks on the porch of the Ford home.
This story was transmitted nationally and two years later, it was turned into a film, The Legend of Boggy Creek. The pseudo-documentary thriller stars actual eyewitnesses and residents of Fouke. It has spawned several subsequent films and is believed to have inspired the docudrama format of 1999 film, The Blair Witch Project.