If you're looking to escape for a weekend or for a place to celebrate a special life event, Arkansas is full of unique and interesting places that are perfect for a quick getaway or "staycation". Enjoy this roundup of great locations around the state.  Many of these locations book months in advance, so if you're interested in something, contact them quickly to get your reservations made.
#1 – Diamond John's Riverside Retreat 
81 Roy Road
Murfreesboro, Arkansas 71958
870-285-4027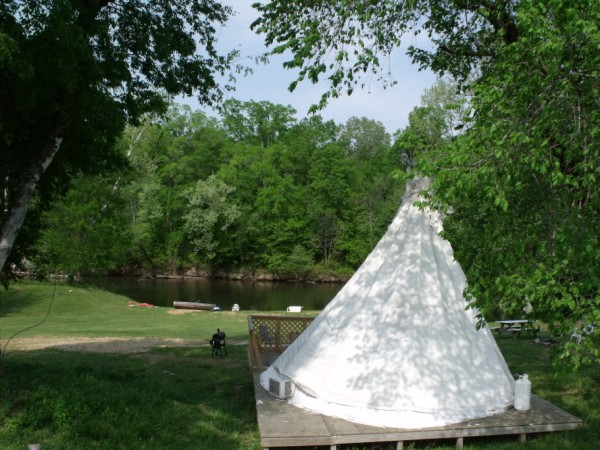 Digging for diamonds at the Crater of Diamonds State Park is a rite of passage for any true Arkansan.  What better way to relax after a long day of digging in the hot sun than by falling asleep in your very own Teepee?  Diamond Johns has three Teepees that sleep up to four adults and one that will sleep up to eight.  The three regular teepees all have air conditioning, satellite TV and free Wi-Fi and include the use of diamond mining equipment.  The large teepee has all of the amenities except for the air conditioning.
#2 – Longbow Resort 
4349 Prim Road
Prim, Arkansas
870-948-2363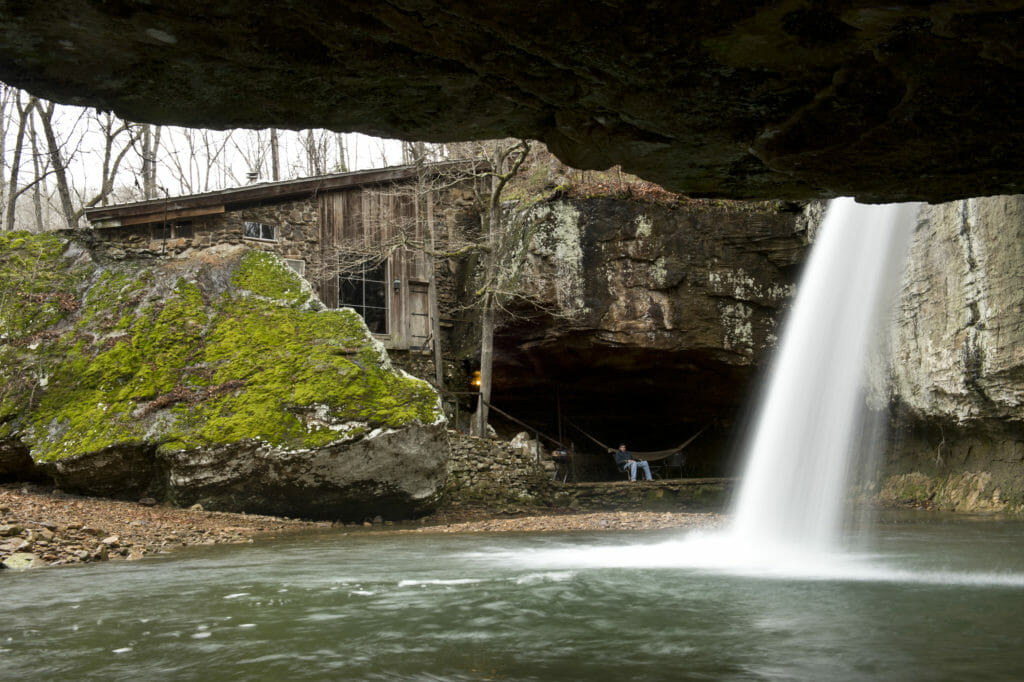 Photo courtesy of Arkansas Parks & Tourism
Longbow Resort is a remote cabin getaway nestled between Greers Ferry Lake and Mountain View and features four beautiful secluded cabins.  The resort has been featured in Southern Living magazine, where it was called a "secluded, enchanted paradise."  The resort is perfect for honeymooners or anyone looking to get away and get immersed in nature.  Each cabin was built to be a part of its natural surroundings, including waterfalls, natural swimming pools, cliff walls, canyons,  or streams. For more information, visit longbowresorts.com or facebook.com/LongbowResort
#3 –Livingston Junction Caboose 
1 Stonehaven Lane
Eureka Springs, AR 72631
Toll Free: 888-87TRAIN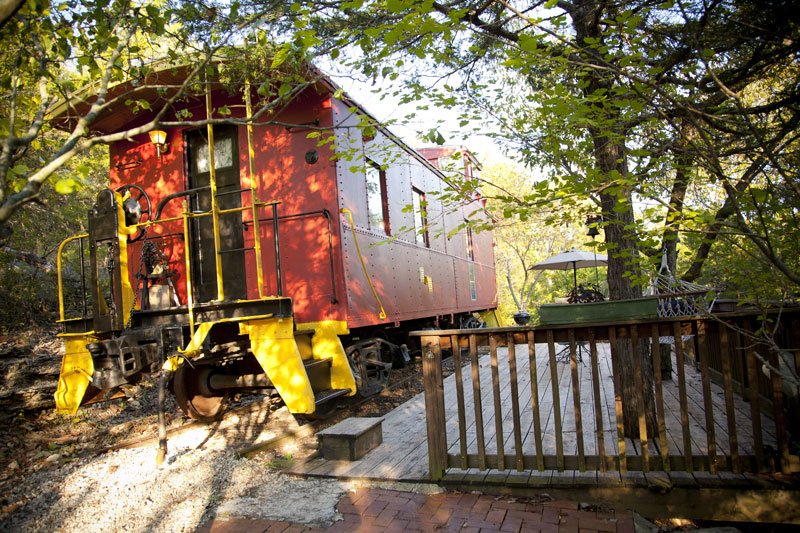 Livingston Junction is home to three remolded train cabooses.  The cabooses have been redesigned into quaint living spaces complete with a hot tub and a grill.  This would be the perfect weekend getaway for the train lover in your life.
Livingston Junction is also for sale! Perhaps you will stay for a weekend and then decide to make this fun place your home!
#4 – The Crescent Hotel 
75 Prospect Ave
Eureka Springs AR 72632
(855) 725-5720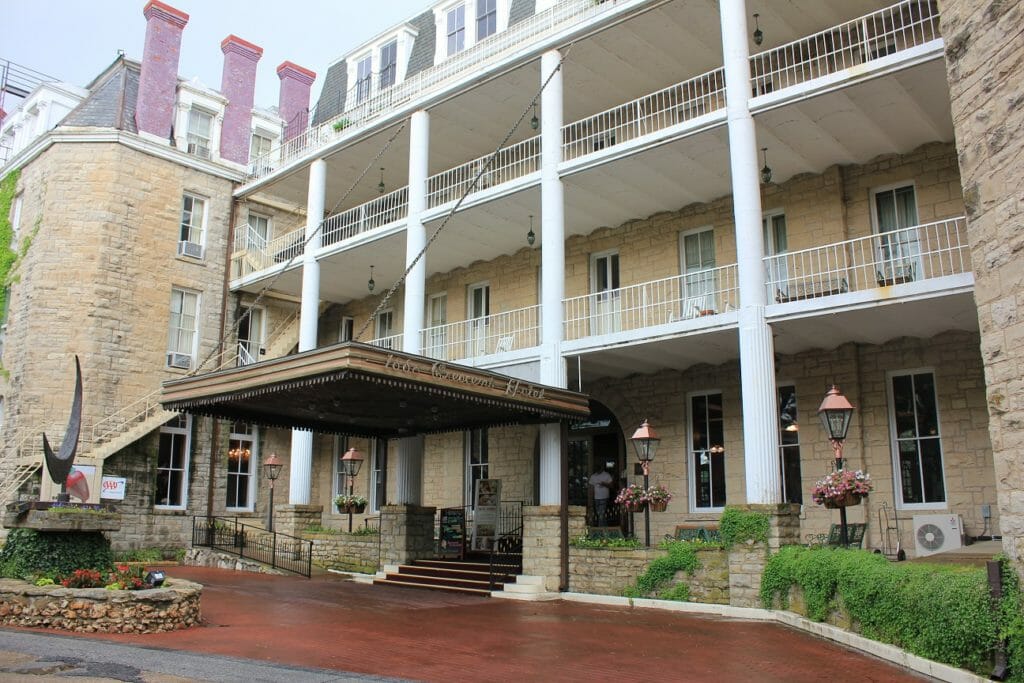 If you like ghosts and haunted things than the Crescent Hotel is the place for you.  Named "America's Most Haunted Hotel" the Crescent offers nightly ghost tours to hotel guests and visitors.  You will learn about the hotel's haunted past and find out if your room is haunted.
The Crescent was built in 1886 and remains a landmark in Arkansas today.  Its beautiful décor will transport you back in time.  In addition to lodging, they offer a restaurant, a pizzeria and a full-service spa.
#5- Turpentine Creek Safari Lodges and Treehouses 
239 Turpentine Creek Lane
Eureka Springs, AR 72632
479-253-5841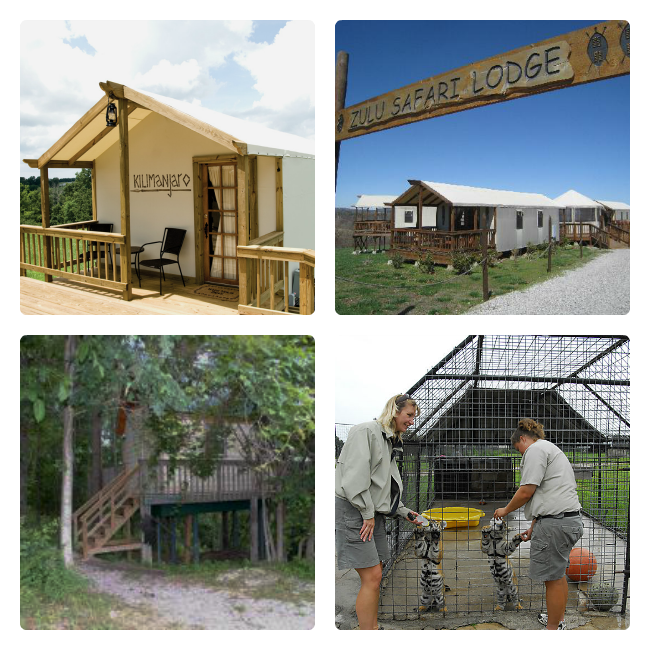 Turpentine Creek is a rescue operation for big cats from around the country.  In addition to offering tours, they have several safari lodges, tree houses and a tent camping area. The lodges are decorated to reflect the African spirit and many overlook areas where the cats play.  You will get a great view of the cats from your room and may even hear them calling to each other late into the night.
#6 –E Fay Jones Stoneflower House 
704 Stony Ridge Rd.
Heber Springs, AR 72543
(501) 368-3049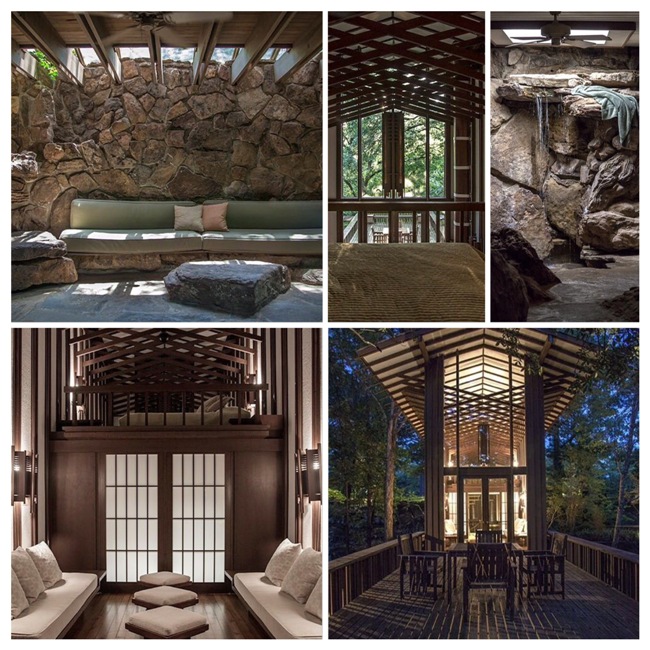 Photos by Cheryl Koralik
The Stoneflower House was designed by E. Fay Jones who is well-known for his Thorncrown Chapel in Eureka Springs.  The Stoneflower is a beautiful vertical structure with exposed beams and large windows that will make you feel as if you are in the outdoors.  The contrast of wood, glass and stone throughout the home is beautiful and grand.  This beautiful house is for rent and can sleep up to 5 although it is not recommended for small children and is not handicap accessible.
#7- 21C Museum Hotel
200 Northeast A Street
Bentonville, AR 72712
479-286-6500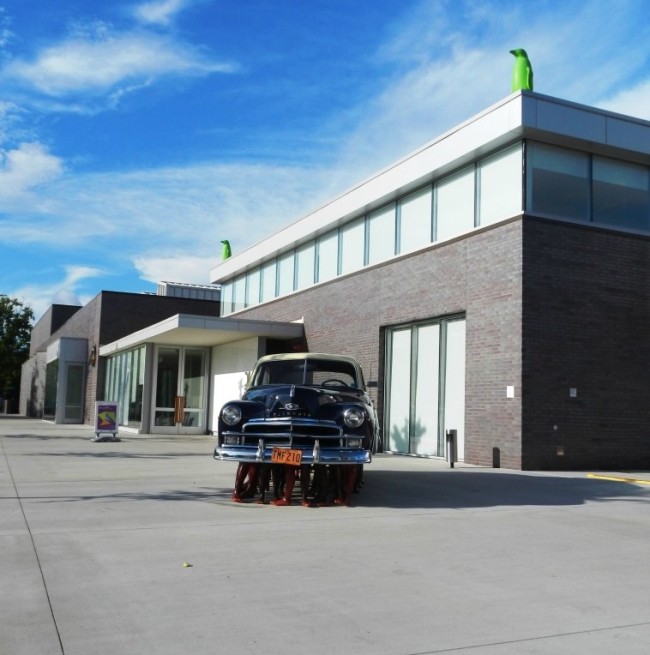 Photo courtesy of Jamie Smith
This trendy spot is a boutique hotel, art museum, and civic center all in one.  The hotel is within walking distance of Crystal Bridges Museum of American Art as well as a variety of restaurants and other area attractions.  The Hive restaurant inside the hotel features James Beard Award Finalist Chef McClure and serves 'refined country cuisine'.  The Hive strives to offer a unique menu featuring local ingredients and Chef McClure's unique take on country cooking. The hotel rooms are modern and luxurious.  You also won't want to miss the Green Penguins that hang out on and throughout the building!
#8- The Arlington Resort Hotel & Spa
239 Central Avenue
Hot Springs AR 71901
1-800-643-1502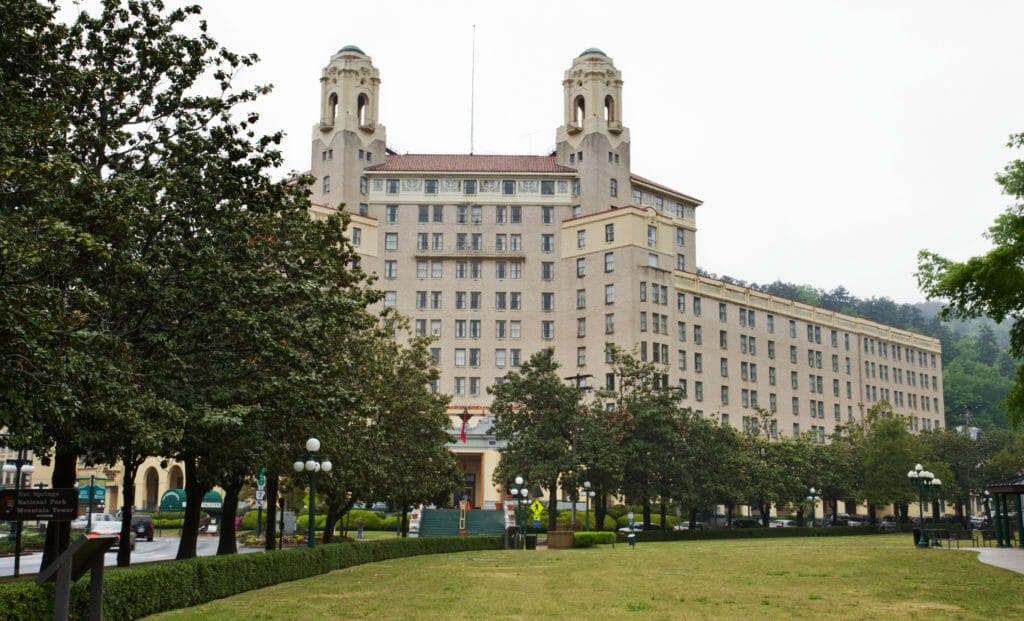 Nestled in the heart of historic downtown Hot Springs National Park, The Arlington Resort Hotel & Spa is an American treasure.  Since 1875, the hotel has hosted presidents, dignitaries, movie stars, gangsters, sports heroes and scores of others looking to relax and possibly enjoy the spring-fed hot waters piped directly into the Arlington Bath House.  Other hotel amenities include outstanding restaurants, Lobby Bar, Starbuck's, Salon/Spa, mountainside Pool Deck with twin-cascading pools and hot tub, shopping and weekend entertainment.    Whatever your pleasure, the Arlington is the place to stay, play, relax and luxuriate – all in one beautiful, historic resort.
We hope you enjoyed this round-up and that you were inspired to spend some vacation time right here in Arkansas.  What are your favorite places to stay around the state? We'd love to hear about your unique getaways in the comments.
Note: Header image by Cheryl Koralik