Major League Baseball and Hot Springs, Arkansas go together like peas and carrots, peanut butter and jelly, peanuts and cracker jacks. No? It does feel a little more like a topic of spaghetti and chocolate syrup. But, that was not always the case.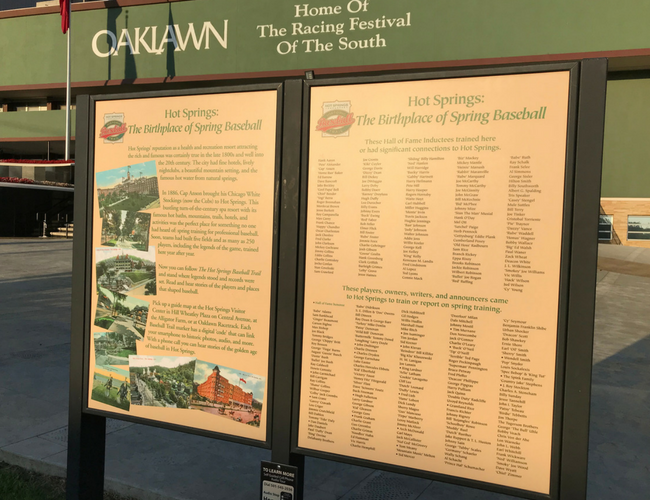 Cap Anson, manager of the Chicago White Stockings (now Chicago Cubs), brought his team to Hot Springs in 1886. Known for its thermal waters, nightlife, and hotel systems, it seemed like the picturesque spot to send his team for spring training. This season marked the first arrival of a baseball team in the area, much less a well-known team from the North. But what Anson did for the area was establish a little-known program and grow an empire.
The Historic Hot Springs Baseball Trail marks the steps, gathering spots, and tells the stories of baseball legends. While the trail itself includes 31 stops, I'd love to explore just a few of them with you and the characters that brought notoriety to this town. You will have to travel to Hot Springs on your own to capture the rest of the story.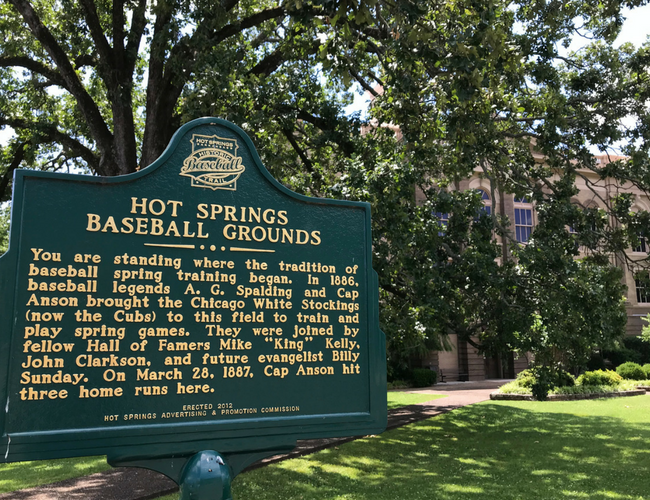 While it is spot number 15 on the trail, it seems like the place to start, because it is the place where it all started. On the corner of Ouachita Ave. and Hawthorne St. currently stands the Garland County Courthouse. But, this was the original site of a makeshift field for the Chicago White Stockings. Cap Anson, a player-manager, brought his team to Hot Springs as a place to be medically treated and "boil out," but also prepare for the 1886 season and defending their National League Championship. This location was chosen for the field because it was one trolley stop up from their hotel. Little did that neighborhood know all that would be born in their backyard.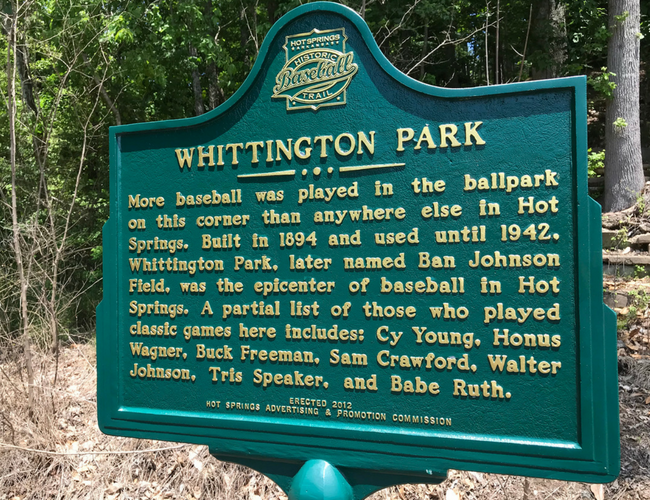 Another integral park to Hot Springs baseball was Whittington Park. Legends and stories alike talk about games that occurred here. From the beginning, when games were played in 1894, and a few bleachers were carved into the mountainside nearby — all the way to the arrest of Doc Owens, manager of the park in 1911 when Sunday Laws were in place, and for-profit games were not allowed. This park was the center of all things amusement (outside of gambling!) and baseball. Notable teams like the Brooklyn Dodgers, Pittsburg Pirates, New York Giants, and Philadelphia Athletics all practiced and played on this field.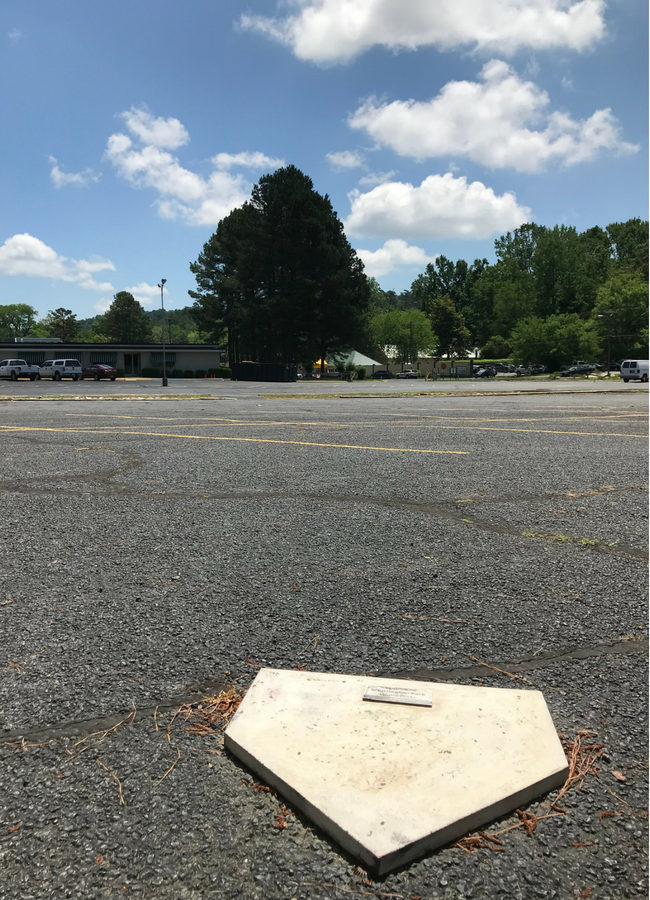 While you are already in the Whittington area, take a few moments and head over to the Weyerhaeuser Headquarters and walk to the back of their parking lot. Here you will find a home plate planted in the middle of a row of parking spaces. If you come at dusk, after 5, or on the weekend, you may be better able to understand or experience a cool phenomenon. Standing behind this plate, look straight ahead to a tan/beige wall. This wall is part of the gate of the Hot Springs Alligator museum. Imagine it's 1918, and a perfect throw comes across the plate, and you crank your arm and make complete contact on a perfect swing. Yep, that's exactly what happened here for a Boston Red Sox player named, ahem, Babe Ruth. He hit the ball so hard it sailed over that wall to achieve a 573-foot hit, the first recorded 500 ft. home run. That St. Patrick's Day game changed baseball history when Babe Ruth became seen as more than just an incredible pitcher; the Red Sox wanted to find a way to get his arm in the batting lineup more often.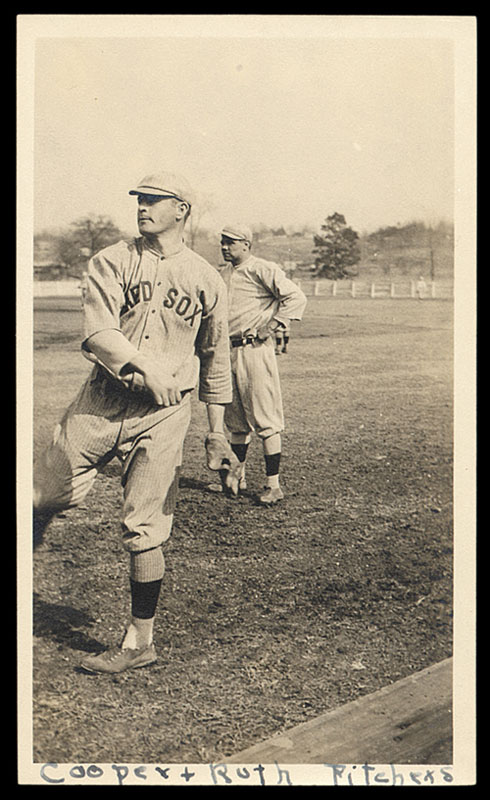 Pitcher Guy Cooper warming up before a spring training game with Babe Ruth standing beside him. Hot Springs, Arkansas, 1915. Photo is public domain. 
As one can imagine, Central Avenue plays an important role in the Hot Springs baseball story. The Majestic Hotel, The Arlington Hotel, the Ohio and Southern Clubs as well as Bathhouse Row were all significant in the life of the baseball players during their time in Hot Springs. The Majestic and Arlington were perfect hotel locations for the teams because of their proximity to the Whittington and Park Avenue junction. During the 1910s and 1920s, teams had to rely on public transportation when they arrived in cities like Hot Springs. So, streetcars, trolley systems and taxis were all very important to the success of spring training. That also made for some trouble from time to time with the players, but lucky for them the "authorities" were always on the lookout making sure they were well taken care of while they were in town. Mostly because they wanted them to come back and the city's income depended on it.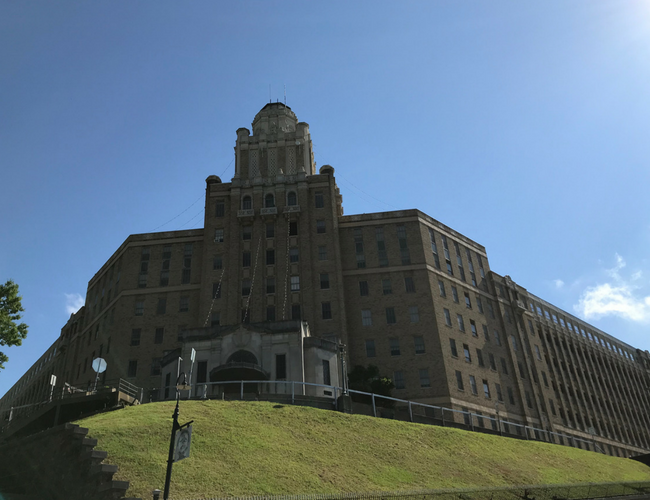 Many people who came to Hot Springs during the early 1900s were coming for the legend of the thermal waters, and the baseball players were no different. Actually, it may be one of the main reasons coaches encouraged them to keep coming back. They called it "boiling out," and some of the players attribute their success and body healing to the waters. One of those players was Buck Ewing. Buck was a member of the New York Gothams, later known as the Giants, and became the first player to hit ten home runs in one season. During the 1892 season, Buck hurt his arm and went to many doctors in New York. None were able to treat him and do what needed to be done. So, while in Hot Springs for training, he visited six physicians at the Army-Navy Hospital in downtown Hot Springs who offered a regimen of mechanical massage and electricity. Those steps coupled with a running routine through the Hot Springs Reservation, baths as hot as he could stand them, and breathing in warm vapors seemed to have healed him. The league was watching when he played in a benefit scrimmage at the end of the summer and stood ready to catch him when the pain crippled him. But all were surprised when he threw and was able to keep throwing. Maybe that water thing really is more than a legend.
The route not only marks famous spots in Hot Springs baseball history, but it also notes some of the more notable players who spent time in the city:
Sam "Wahoo" Crawford played for the Detroit Tigers from 1903 to 1917. He was inducted into the Baseball Hall of Fame in 1957 and is known as the only player to hold the leading record for home runs in both the National and American Leagues.
Tris Speaker, a player for the Boston Red Sox, was a Freemason and spent much of his time at the historic three-story Masonic Lodge Headquarters. Speaker held a record for 792 doubles during his career that still stands today.
Honus Wagner left his mark on this city well beyond his shortstop position. In addition to playing for the Pittsburg Pirates, Wagner owned a sporting goods store. He donated uniforms to the Hot Springs High School basketball team, but they were given in his team's colors of gold and black instead of their maroon and white. Black and gold still stand today as the team colors for HSHS.
Roger Hornsby was inducted into the Hall of Fame in 1942. While his stats are incredible, his greatest reputation came as a teacher of the game. He taught at Doan Baseball School in the years he would come for training. But after his playing career, he returned to the Spa City to run the Roger Hornsby Baseball College on the site of the former Majestic Field. This college featured a 6-week program for prospective professional players, and many of his colleagues would join in as faculty of the program.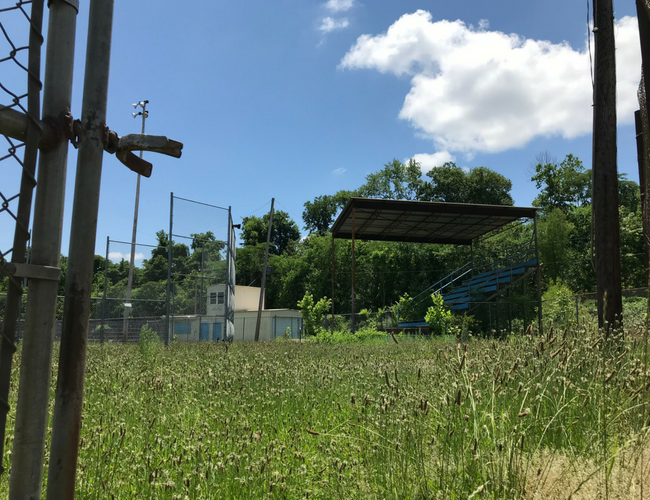 The most moving part of the trail to me was stops 21 and 22. After stopping in front of the Boys and Girls Club to see a couple plaques, I drove around to a dead end road and walked back to a rocky parking lot to find a gate outside a fence that read these words, "One of the most important events in Hot Springs history occurred where you are standing." Honestly, I think I might argue that it was one of the most important events in history, period. Jackie Robinson and Hank Aaron are 2 of the players featured in the Hot Springs Baseball Trail, and this field is where both of them played significant games. Jackie Robinson is credited with breaking the color barrier in Major League baseball and this is where he first played with the all-stars. Hank Aaron also played here as an 18-year-old young man as part of the Negro League World Series. Both of these men went on to score incredible records. Aaron broke Babe Ruth's record by marking 755 Major League home runs, and Robinson has plenty of numerical notations to mark his career. But none more notable than April 15, 1947, when he took first base as a player for the Brooklyn Dodgers. That same year, he received the first MLB Rookie of the Year award.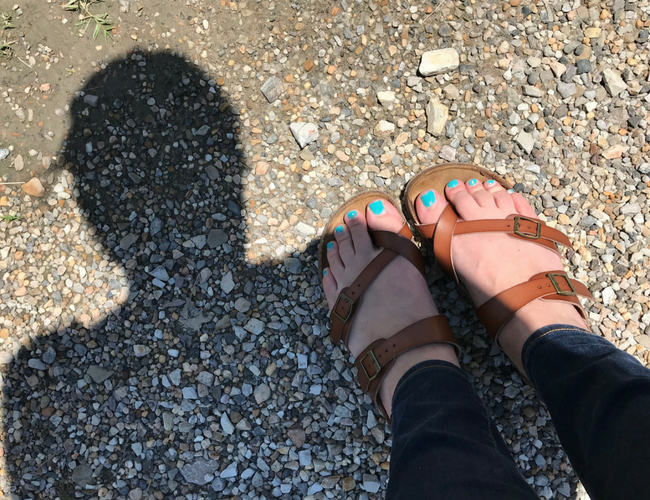 I must be honest. I love history and loved my day in Hot Springs chasing history and new facts about the times that Spring Training was held in the Spa City. But, to stand where Jackie Robinson stood and looked through the fence with expectation, I had to pause for a moment and let a few tears rest. We live in an incredible state; a place where people make life better every day and a place where history tells a grander story of clearing the bases for an even playing field!
Before you embark on your visit, make sure to download the Hot Springs Baseball Trail app. At each location, you will notice a QR code you can scan or a number to call to hear an extended story from what you read on the sign. The app works similarly and includes a tour map.
Our backyards are full of incredible stories when we stop for a minute and look up. Imagine what happened a decade or five ago on the plot where your feet stand at this moment.
Cover Photo: Philadelphia players at Hot Springs, Arkansas. March 1912. Photo is public domain.